Thunder Stone
Free Samples
Order four free samples to see and feel our products in your home!
EvoCore 360 Tiles - Thunder Stone
The perfect replica of deep grey slate tiles, our EvoCore 360 Thunder Stone range combines practicality with modern design. 100% waterproof, sleek, and easy to fit this range is ideal for busy family homes. 
Joining effortlessly to any of our EvoCore 360 ranges, why not get creative with a bespoke design. The Omni-Click 360 fitting system allows you to add a touch of personality as you transition from one room to another, with an array of styles to choose from.
Specifications
Residential Warranty
Lifetime
A closer look
EvoCore 360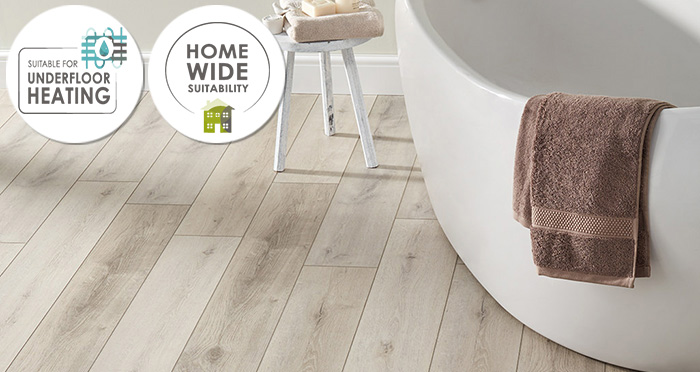 ROOM SUITABILITY
EvoCore 360 is one of our most versatile flooring ranges, suitable in all rooms in the house where temperatures up to 27°C have been tested. Underfloor heating is no challenge for our EvoCore 360 range either, you can take the chill off those winter evenings without worrying about the impact on your flooring. For electrical underfloor heating, we advise a maximum of 60W/m²
WATERPROOF
EvoCore 360 provides excellent slip resistance, tested to R11 standard. The slightly textured finish provides additional grip to help prevent sliding. 100% waterproof, EvoCore 360 will outperform any other flooring range in high-risk areas such as kitchens and bathrooms.
360 CLICK SYSTEM
The 360 click-lock system has been fully designed to be used around the home, as such it's been made watertight for use within bathrooms too. This flooring can be installed very quickly, in as much as 10m² in 30 minutes. As it is less time consuming, installation costs will also be greatly reduced.
EASY TO MAINTAIN
Children's activities can often lead to the use of crayons or accidental spillages, which are no longer an issue. These can be wiped clean with a little bit of soapy water for a stress-free clean up.
HARD WEARING
Our EvoCore 360 flooring range has been manufactured to be very hard-wearing, it's versatility knows no bounds. Holding up to everyday wear and tear; whatever the occasion.
PET-FRIENDLY
Perfect for pet owners whose pets frequently come back with muddy paws from a morning walk, the EvoCore 360 range is not only pet-friendly but scratch resistant too. Make claw marks a thing of the past!
RECYCLABLE
Our EvoCore 360 Range is manufactured in Europe with 80% Recycled Materials. So not only are you getting a fantastic floor, you're doing your bit for the Environment too as it can be fully recycled!
Recommended
Colour Complimentary Touches
Finish your EvoCore 360 flooring with our room edging and joining accessories.
Use me as a Ramp, T-Profile or an End Profile
Perfectly colour matched
Available in 2m (6.5ft) lengths
£39.99