Portofino Chevron
Light Honey Oak
Free Samples
Order four free samples to see and feel our products in your home!
Special Price
£39.76
Regular Price
£132.58
Laminate Warranty
Our wear warranty has been created to provide you with peace of mind that our quality product is ready to stand the test of time.
With proper care and maintenance, we guarantee against any hidden defect that may adversely affect the life of the product.
If you have any questions, please get in touch! For a detailed explanation and warranty exclusions, please visit our terms page.
Portofino Chevron - Light Honey Oak Laminate Flooring
Are you looking to spruce up your home in a cost-effective way? Look no further than our beautiful range of Portofino Chevron laminates, which are sure to add a touch of contemporary charm to your home. Boasting realistic wood features, this laminate flooring enables you to get the look of a solid wood parquet floor in no time. Light Honey Oak combines tones of natural browns with a sweet honey sheen for a stunning finish that will compliment any decor! Made with a 12mm thickness, the Portofino Chevron range is a great choice for busier rooms like kitchens and living rooms. Expertly blending style and function in a beautiful design that will look at home in traditional or modern decor in equal measure.
One of the best benefits of this Chevron Laminate flooring is the extra large, easy to fit laminate boards. Utilising an industry standard click fitting system, you are able to you to have the look of Chevron Parquet without the cost, time and wastage of laying individual parquet blocks! Each pack contains 3 x A board and 3 x B boards and when fitted, should be alternated row by row to achieve the desired Parquet effect. Short joints should be a minimum of 180mm apart from the short-end joints on the previous row. Please see below spec point for more information.
Specifications
Residential Warranty
15 years
Commercial Warranty
5 years
A closer look
Portofino Chevron
Chevron Effect
This Laminate is designed to give an authentic Chevron look and each décor closely resembles the wood grain and surface of the desired effect. Due to the style and colours of each décor, the laminate is not designed to completely match up when fitted, however does give an incredibly unique and convincing effect of a real parquet floor that is both cost effective and has the benefits of a Laminate.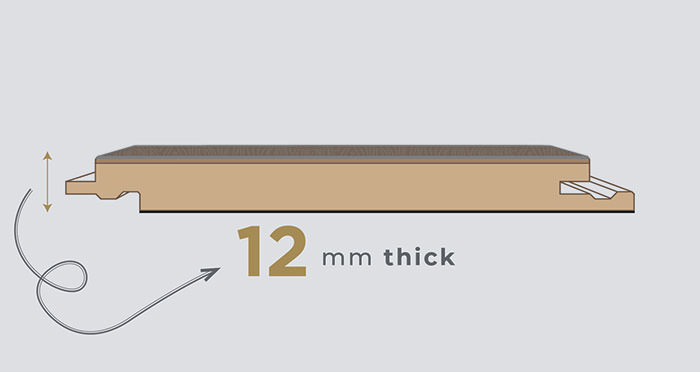 12MM THICKNESS
12mm thick boards offers fantastic stability and durability. Offering the ability to withstand everyday living in your home, this thickness of laminate can give you that added piece of mind whilst maintaining the perfect look for your home.
AC3
AC3 laminate is perfect for both household and commercial use, which will withstand general traffic and moderate use. This AC rating will give you higher durability and thus will benefit from a longer life.
MOISTURE RESISTANT
Don't worry about damp patches or accidental spillages with this laminate! By use of our Impero Joint Protector, you can find peace in the knowledge that your flooring is safe from any moisture.
SUPER IMPACT RESISTANT
This laminate flooring is super impact resistant, ensuring it is extra safe from damage when those household items slip through your fingers!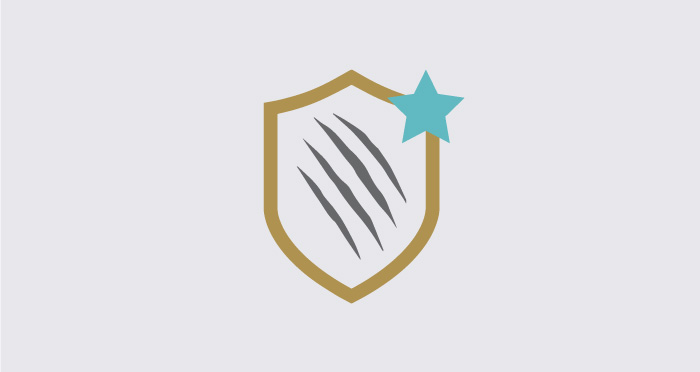 SUPER SCRATCH RESISTANT
Accidents happen which cannot be helped, especially in those high traffic areas. However, fear not as this laminate is super scratch resistant.
UNDERFLOOR HEATING
Underfloor heating provides households with an energy efficient solution to warming rooms, and this flooring is compatible with both electric and water-based systems!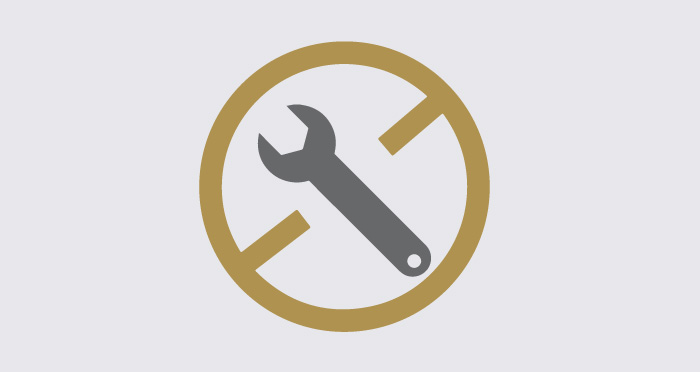 LOW MAINTENANCE
If you're looking for a flooring that is easy to clean and requires little upkeep, look no further! This easy to clean laminate requires a simple clean and will resist any stains and spills.
Installation Tips
The boards should be fit on a flat, smooth, clean and permanently dry subfloor, whilst using a DPM underlay where there are concerns over moisture. Spacers should be used to create the required expansion gap (minimum 10mm) around the edge of the room and all fixed objects. Each pack contains 3 x A boards and 3 x B boards which are to be laid alternately to achieve the desired effect as shown in the above image. Short joints should be a minimum of 180mm apart from the short-end joint on the previous row. Ensure all panels are fully engaged and straight before laying the next rows in the same format.
Recommended
Colour Complimentary Touches
Finish your Portofino Chevron flooring with our room edging and joining accessories.