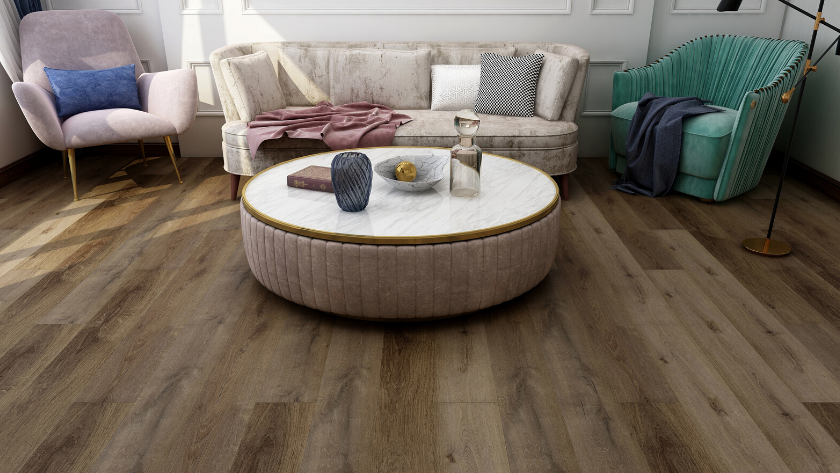 EvoCore Flooring is the most versatile flooring range that we offer. Providing maximum protection from moisture, stains, dents and scratches, as well as  temperature fluctuations. Our EvoCore ranges are designed with many factors in mind to provide a great option for all areas of the home, including high-risk areas such as bathrooms and kitchens.
Our EvoCore range is still young and new to our collection of different flooring options, so this may leave you with a couple of questions. This blog will help explain every point and factor that you may be curious about.
What is EvoCore Flooring?
EvoCore flooring is one of the most versatile flooring's on the market being the latest in the evolution of flooring. Our ranges offer diverse results whether you're transforming your home or commercial property, with a range of styles and budgets to suit a variety of needs. These exclusive ranges are designed with every lifestyle in mind. Whether you've got a house-full or populated office, you can add luxury, comfort and style to your space with EvoCore.
The Benefits of EvoCore
EvoCore Flooring provides many beneficial factors. They ensure the best protection and resistance against both common and rare household and commercial activities. Below is a bullet-pointed list of each benefit that this range offers: 
EvoCore is 100% waterproof

Anti-slip surface

No expansion or contraction when exposed to heat and cold

Pet-friendly

Durable and hard-wearing

No glue needed for installation, due to its easy click-lock installation feature

Real wood look and feel

Scratch-resistant

Compatible with

underfloor heating

Hides minor subfloor imperfections

Can be laid over existing flooring

Eco-friendly
The sheer amount of benefits that EvoCore Flooring provides is completely unmatched when compared to other options. This waterproof flooring is a perfect flooring choice for bathrooms and kitchens, due to its waterproof and anti-slip features. There's no need to worry about those accidental spills or crazy bath times! 
The EvoCore Ranges
Essentials and Premium
EvoCore Essentials and Premium are both made of a combination of 7 different layers to create an extremely resistant and durable flooring:
Built-in underlay backing.

A standard vinyl board, eliminating any ripples or waves.

Ridgid core board, enhancing stability and protection against water damage and expansion.

Another standard vinyl board, adding additional robustness against chips and dents.

Decor film, which provides different wood patterns and colours depending on your preference.

Highly durable wear layer which provides commercial-grade resistance against foot traffic, scuffs and grime.

UV protective coating, which not only provides protection against colour fading, but also keeping the decor film clearly visible.
Within our EvoCore Flooring range, 2 of the 3 ranges that we offer, are better suited to different needs and situations. 
Our Essential and Premium are split based on their thickness, coverage and warranty. Premium is classed as more of a luxury range due to its thicker and slightly more durable plank. EvoCore Premium planks are also registered embossed, therefore, the texture on the surface perfectly matches the design, which creates a true wooden look and feel. Alternatively, out Premium Range also offers tiled designs for those who want a beautiful tiled effect.
EvoCore Essentials
Thickness: 

5.2mm

Wear Layer:

0.2mm

Pack Coverage: 

2.2m

²

Board Length:

1220mm

Board Width:

180mm

Species:

Oak

Pack Contents:

10 boards

Residential Warranty:

10 years
Essential Top Picks
EvoCore Premium
Thickness:

8mm

Wear Layer:

0.55mm

Pack Coverage: 

1.54m

²

Board Length:

1220mm

Board Width:

180mm

Species:

Oak

Pack Contents:

7 boards

Residential Warranty:

Lifetime
Wood and Tile Designs
| | | | |
| --- | --- | --- | --- |
| | | | |
|  Light Vanilla Oak | Driftwood Oak | Lunar Landing Tile | Timeless Grey Tile |
| | | | |
| | | | |
Premium Top Picks
EvoCore 360
EvoCore 360 is the latest in the EvoCore range, offering the ability to create bespoke designs to suit any aesthetic. A unique 360 omni-click system give the ability to: mix and match colours, create patterns such as herringbone, easy installation and eye catching designs, being able to seamlessly match wood to tile. This level of versatility is unmatched.
Thickness: 

5mm

Wear Layer:

0.55mm

Pack Coverage: 

2.16m

²

Board Length:

1326mm

Board Width:

204mm

Species:

Oak/Stone

Pack Contents:

8 boards

Residential Warranty:

Lifetime
EvoCore 360 is made up of the following 4 layers:
Protective PU lacquer

Wear layer at 0.55mm 

Acoustic vinyl decor layer (with fibreglass)

Rigid composite board (RCB) with DreamClick locking elements
EvoCore 360 Top Picks
Wood Design - Best Sellers
Tile Design - Best Sellers
EvoCore Nature
The EvoCore Nature Range brings a touch of the outside in, with a real wood veneer providing that a natural organic charm from introducing natural textures and designs.
EvoCore Nature has an array of other benefits too, including: easy maintenance, home-wide suitability, waterproof, pet-friendly, built-in cork underlay, hard-wearing and easy to install.
It's cork underlay backing aids in the natural aspect of the product, with it being more eco-friendly.
Thickness:

8mm

Wear Layer:

1.2mm

Pack Coverage:

 

1.8m²

Board Length:

400 - 1220mm

Board Width:

125mm

Species:

Oak
EvoCore Nature - Best Sellers
Installing EvoCore Flooring
Essentials, Premium and Nature
Installing EvoCore Essentials, Premium and Nature Flooring is similar to installing click LVT or tongue and groove and click wood flooring, due to its similar click-lock system. However, EvoCore installation is a quicker and easier process thanks to the built-in underlay. 
We DO NOT recommend fitting EvoCore Flooring over an existing flooring. EvoCore Flooring is installed using the floating floor installation method, as no glue or adhesive is needed to secure your flooring:
Measure your room

to know how much flooring you will need to purchase.

Choose your favourite range of

EvoCore Flooring.

Ensure your subfloor or existing floor is

clean and clear of debris

.

Lay your waterproof flooring over the subfloor. No underlay is needed because EvoCore Flooring has underlay pre-installed on the underside of each plank. You can lay your flooring lengthways or widthways, depending on what style you are looking for.

Use the click-lock feature on each plank to attach them to one another, which creates a tight seal between each plank.

Cut the planks when necessary using a fine tooth saw or tile cutter to fit in the area of your room. As well as this, be sure to cut planks that need to work around set features of your room, such as a shower, toilet, cupboards, or sinks and so on.

Once your flooring has been installed,

add skirting to the perimeter of your room

if necessary. We offer a wide range of matching EvoCore accessories such as

skirting

.
EvoCore 360 Installation
EvoCore 360 features an innovative omni-click system, meaning the planks can be fitted by both length and widths. This feature allows for a quick and easy installation, bespoke design options such as herringbone, and the ability to create separations between rooms without transition strips. EvoCore 360 also offers the seamless matching of wood to tile.
Questions and answers
Is EvoCore pet-friendly?
EvoCore is perfect for any pet owner. As its scratch-resistant surface makes it ideal for claw or teeth marks. Additionally, its easy to clean surface is also great for those muddy paw prints that always seem to show up!
Is EvoCore child-friendly?
Children's activities can almost always lead to a mess of crayon marks and spillages. This stain-resistant and waterproof flooring makes the cleaning process a quick and easy task; all you need is a little soapy water for stains and marks to be removed.
Does EvoCore have an AC rating?
Only our ranges of laminate flooring offer an AC rating. However, our EvoCore premium ranges offer a commercial-grade durability rating.
Is EvoCore compatible with underfloor heating?
Underfloor heating is no challenge for our ranges of EvoCore. It is 5 times less affected compared to LVT in environments which face extreme temperature fluctuations and exposure to direct sunlight. We have tested the effects caused by heat all the way up to 38°C and found no differences in its shape or size, thus making it perfect for practically any room.
Where can EvoCore Flooring be laid?
EvoCore can be laid in absolutely any room in your home due to its strength and durability. It can even be laid in wetter or more active areas of the home such as bathrooms or kitchens.
To conclude, EvoCore Flooring is a great option for any home. Its many benefits and easy installation makes for a great stress-free job. We hope any questions or queries that you may have had has been answered in this blog. If not, don't hesitate to give us a call on 03308 088 777.