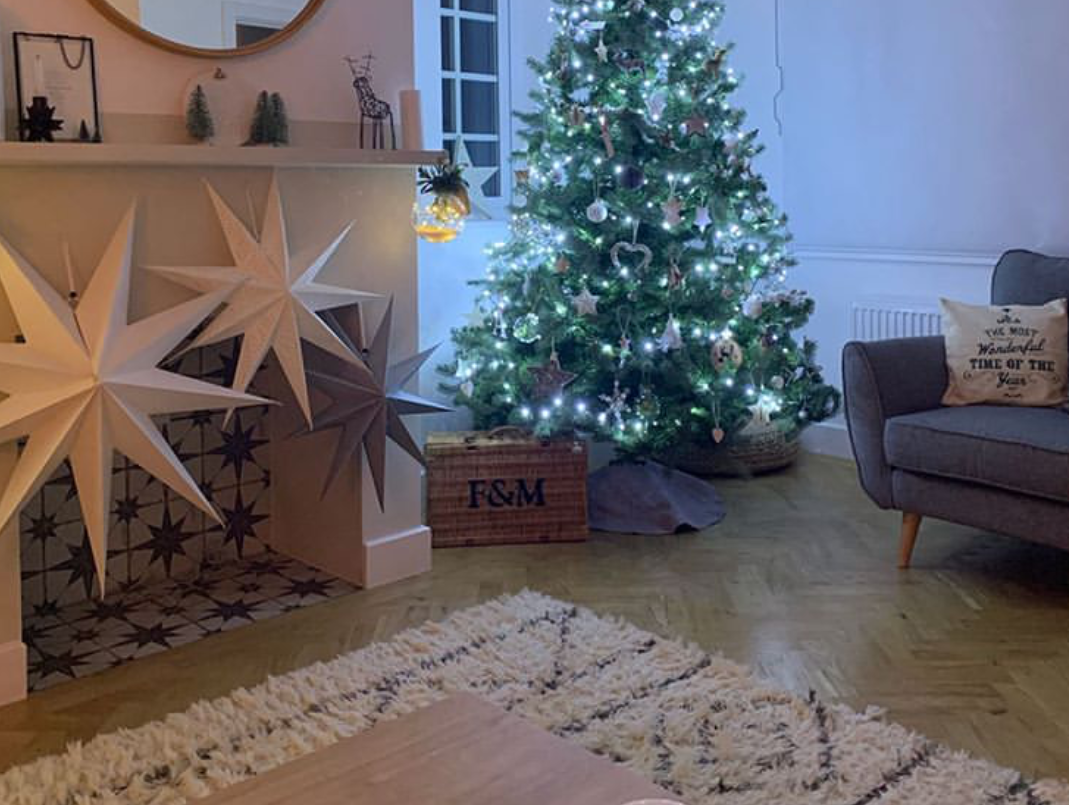 Christmas is prime time when it comes to cleaning. Your friends and family coming over means you have a lot more foot traffic than normal, which could mean disaster for your flooring. Glitter from Christmas decorations, dirty shoes and possibly even snow are all culprits for creating an unclean floor in your home. 
A thorough Christmas clean is needed, and we're here to help! This blog will help you in looking after real wood, laminate, LVT, and EvoCore flooring during the festive period. Family, friends and pets are the usual culprits for making your flooring dirty, or even causing damage in some cases.
Whatever your flooring type, it's important to know what cleaning products and methods you should be using for the perfect clean. We're going to walk you through step by step on protecting flooring, as well as tackling mess caused by a real Christmas tree. 
Preventing Damage
The first step for preparing your flooring for Christmas is always prevention. It's always best to make sure your floor is the least vulnerable it can be, otherwise, you might be stuck trying to mend it. There are a number of different precautions and steps that can minimise the risk of damage and dirt this Christmas.
Shoes
Christmas time is the most dangerous time of year for flooring; there are bound to be high heels and wet shoes around your home throughout December and into the New Year.
Don't be afraid to set some rules for your guests. Not letting shoes past the front door is an easy and effective way of keeping the mud out of your home. Alternatively, if you want to be a little more lenient, ask your guests to not wear high heels. High heels can seriously damage by leaving small holes, scratches and dents as they walk across your flooring. 
Use a shoe rack for your guests when they take off their shoes. This keeps things organised and prevents your front door from being cluttered with shoes. If you want to be a little more subtle about your no-shoes policy, try a festive-themed sign that gives your guests a gentle reminder your home is a shoe-free zone!
Moisture and dirt
If you're worried about moisture or grime finding its way into your flooring, joint protector is a great way of protecting it. Joint protector is a water-based sealant that works as a waterproof protective layer for the joins between your planks, which increases the lifespan of your flooring. This is perfect for keeping those outside elements from making their way in, and can really come in handy if you're expecting a lot of guests. Additionally, the joint sealant is completely odourless and transparent.
Cover your floor
To prevent any scratches or bumps from appearing on your flooring, something as simple as covering certain problem areas of your floor with a protective film can make this less of a worry. While it may not work to cover your entire floor, this works well in doorways where dirt is more likely to be an issue. This is a very common hack that a lot of people do for parties or get-togethers. It's cheap and easy, so give it a try.
If you'd rather keep with the aesthetics of your home, using a large floor mat of your choice will look stylish and inconspicuous. Make sure to look for a nice thick mat for the best results.
Vacuum regularly
Make sure to vacuum your flooring throughout the day. This removes any chunks of dirt, litter, or any sharp objects that come off your tree. Keeping your flooring clean removes the chance of any sharp objects scratching the surface of your wood, laminate, or LVT, as well as preventing any liquids from setting into your flooring.
Preventing furniture damage
At Christmas time, it's likely your furniture will be moved around to accommodate guests at parties. It's the same when finding the spare chairs to squeeze everyone around the table. Using furniture pads protects floors from unsightly scratches while you chop and change your home's layout for the festive celebrations. Furniture pads apply easily to the legs of your furniture, and allow them to glide easily without causing damage to your floor.
So, now we've focused on preventing damage, let's move onto keeping your flooring clean and how to deal with dirt in your home this Christmas.
Real Christmas Trees
Real Christmas trees are a different beast compared to the fake trees you commonly see.
Before you bring your tree inside, make sure to give it a good shake to get rid off all the loose pine and dirt that may be on it; this means there will be less of a cleaning job in the long run.
If you are able to, be sure to water your tree regularly. Keeping your tree regularly hydrated will make it shed less of its pine leaves, therefore causing less of a mess for you to clean up.
Pine leaves on a real Christmas tree have a tendency to fall off and be a real nuisance.
To keep on top of things, it's best to remove any loose debris or grit that may have fallen off the tree. We recommend using a vacuum with a brush attachment to get rid of any pine leaves or muck. 
If you're struggling to keep on top of that regular vacuuming, using a decorative blanket to cover the floor from the tree is a great option. The blanket will look right at home while simultaneously protecting your flooring from any pine leaves or dirt.
When removing your tree, lay some spare blankets or sheets across the path that you plan to take your tree through. This will catch any last bits of debris that might fall off, saving the job of vacuuming up the mess after.
Use the Right Cleaning Equipment
Our Impero Elite Wood Flooring Kit professionally cleans and protects your wood flooring, restoring solid and engineered wood back to life. The advanced spray mop mechanism results in only a small amount of water being used, which is very beneficial for your flooring, as a high amount of water may cause long-term damage.
Our Impero cleaning kit includes: 
For Laminate, LVT, and EvoCore flooring, we recommend using our Impero All-In-One Cleaning Kit. This floor cleaning kit is suited to all types of flooring and offers a professional, thorough clean. This cleaning kit also does a very effective job of removing greasy marks off your flooring. 
Included in the Impero All-In-One Cleaning Kit is:
1 x Spray Mop & Bottle

2 x Machine Washable Microfibre Cloths

1 x Litre of Concentrate Floor Cleaner

1 x Measuring Cup

1 x Brush
This cleaning kit does a very effective job of keeping your flooring clean and stain-free for long periods. This makes that post-cleaning session much more bearable.
Cleaning Your Flooring
Real Wood, Engineered Wood, and Parquet
For any kind of solid wood, engineered wood and parquet, the cleaning process is the same.
We recommend our Impero Elite Wood Flooring Kit. Firstly, use a microfibre cloth to remove any dust before cleaning. This kit is fantastic at dealing with stains and marks that may accumulate during Christmas time. Our kit uses a small amount of water as to not damage or warp the wood during cleaning. This results in an equally clean flooring. What's more, our Reviving Wax is included in the kit and will help minimise the appearance of any damage and help to further protect your flooring. 
When cleaning your wood floor, it is vital that you do not use high amounts of water. Wood absorbs moisture, and the moisture can cause the wood to lift, warp, and in some extreme cases, the wood can even crack. Therefore it is highly recommended that you don't use a lot of water, for your flooring's sake!
Laminate
A Christmas clean of your laminate flooring is fairly simple and doesn't differ from regular cleaning. Simply brush off any large bits of debris and mop the surface down with a slightly damp mop (although we recommend a flat-headed spray mop instead). For those slightly tougher stains, scrub the surface with a slightly damp cloth and some floor cleaner.
LVT
LVT is very easy to clean and requires little more than a sweeping brush and a mop. This particular type of flooring is water-resistant and offers great durability, which are both great features for flooring, especially during Christmas time. 
To clean LVT, Simply get rid of any large pieces of dirt and debris using a sweeping brush and mop. For tougher stains, similar to laminate, use a cloth and some floor cleaner and the stain should come right off.
EvoCore
Our EvoCore flooring is extremely durable and hard-wearing, this coupled with the addition of a completely waterproof surface means that you can clean this flooring extremely thoroughly if needed. 
Cleaning Evocore flooring is simple: sweep away any large pieces of debris, this is followed by a thorough mop down. 
For laminate, LVT and EvoCore, our All-in-One Cleaning Kit contains a spray mop and floor cleaner, perfect for any flooring type. 
What to Avoid
Wood Flooring
For any kind of wood-based flooring, as mentioned previously, it's important to avoid water. If your wood flooring is exposed to a high amount of moisture, the flooring can curl, warp, or crack. Also, be sure to avoid any kind of DIY cleaning liquids that you may find guides on. Any kind of DIY cleaning product can damage your floor if you aren't careful. As previously mentioned, it's also important to avoid anything that can cause a bump or scratch on your wood floor.
Heating is used more regularly for the winter months, so it's important to be mindful of not using the heating constantly. The constant heat can actually dry out your wood flooring and cause shrinking and cracks in some extreme circumstances. 
If you're worried your floor may be drying out, there are ways to treat it. Keep a close eye on the humidity of your home; the air will be drier during the winter months, which means it's worth using a humidifier. Be sure to introduce moisture into the air, not the flooring. For a simple fix, Close your curtains in the room with the flooring you want to keep from getting dry.
Laminate & LVT
As for laminate and LVT, be sure to not use excessive water on the surface when attempting to remove stains. Using anything abrasive on your laminate or LVT will create marks and scratches, so be sure to avoid this too. It's also worth being mindful of not using soap-based polishes or detergents. Using soap-based detergents or polishes can leave a dull film on the laminate. This can lead to the need to replace your flooring if you don't take the appropriate cleaning approach.
Although EvoCore Flooring is extremely durable, be sure to not use anything abrasive to remove stains. Constant heavy use of an abrasive object to clean the floor, such as steel wool, will eventually create unsightly scuff marks.
Prevent Future Damage
Preventing any future damage is as important as protecting and cleaning your floor. Our Impero Elite Reviving Wax provides optimum protection for your flooring. It creates a protective layer that will prevent any wear and tear from appearing on your flooring, and revives your floor and further protects it from any future damage. Perfect for once the festivities have ended!
Using Felt Adhesive Pads is a simple and effective way of protecting your flooring from abrasive damage. Place the pads on the contact points that your furniture or decor makes with your floor. This helps massively with preventing any scuffs or scratching, especially if you will have chairs and other furniture moving around your home. 
If you'd rather not use felt adhesive pads, placing a blanket or rug underneath your tables and chairs can do an effective job at protecting your flooring. Using a rug or blanket that matches your décor will make it more seamless, so you don't need to worry about sacrificing your aesthetic.
Fix Any Damages
Fixing damaged wood and laminate flooring can be made much easier with our Floor Repair Kits. We offer many different colour variations to suit the shade of your flooring. These include:
Simply give your flooring a clean down with a cloth and a small amount of water before using our kit. It works by filling in small sections of damage with colour-matched wax, and works on solid and engineered wood as well as laminate floors. 
For more serious damage, which is sometimes unavoidable, you may need to sand and refinish your floor. Note however, this is only for solid and engineered wood - if you have laminate, you can repair or replace laminate planks fairly easily. Sanding down the surface of your flooring and adding any range of our Osmo Oils can get the job done and makes your flooring look brand new. Sanding down the surface of your wood flooring can also open up new possibilities different shades.
We recommend you add 10% of the flooring onto the amount of LVT and laminate you buy. This extra amount of flooring accounts for any tiles that have been wasted during fitting. The extra flooring can also account for any damage that a tile may receive and needs replacing.
Conclusion
After these useful tips, your annual Christmas cleaning panic should be a little less stressful. Small and helpful tips can go a long way, especially when some problems can be so regular. These tips may even come in handy once the festive period is over