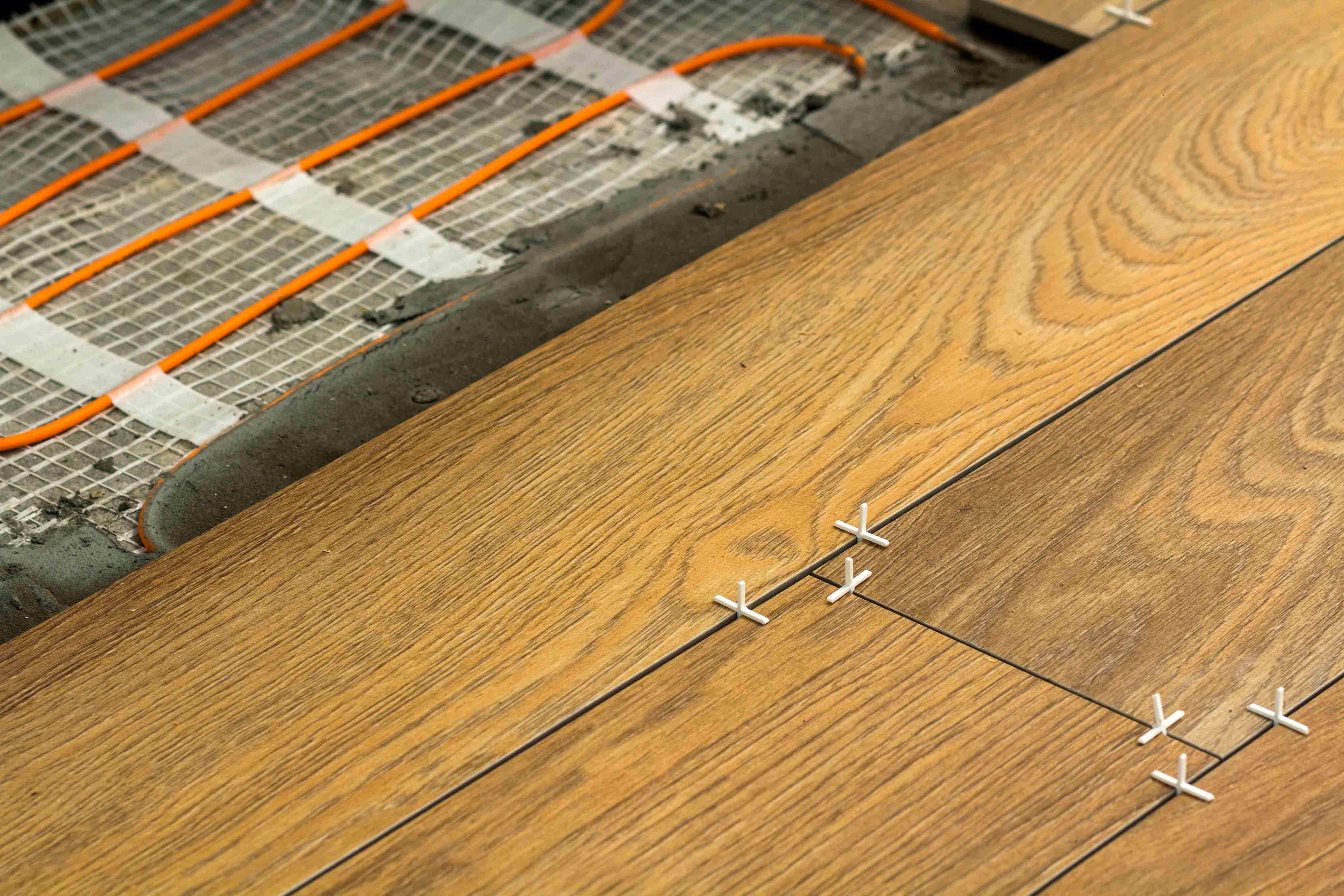 When choosing a new wood floor, it is essential that you consider your space and what is required from installation. Underfloor heating is a fantastic way to heat your home and with its rising popularity, wood flooring manufacturers have used innovative technology to ensure there are products on the market that are more water and heat resistant than ever before, as well as giving you the beautiful wood finish you want for your home. However, not all wood flooring works with underfloor heating so it is a vital consideration when finding the best wood flooring product to purchase.
To help you decide what will work best if you have underfloor heating and would like a wood floor, we have put together a list of the most frequently asked questions regarding wood flooring products and what you need to do to make sure you get the best option for you and your home.
Can I use underfloor heating with solid wood flooring?
We would not recommend installing solid wood flooring on top of underfloor heating. The heat can cause the wood to expand and then contract, causing shrinkage, warping, gaps between the planks and damage to your newly laid floor.
What is the best type of wood flooring to use with underfloor heating?
If you are looking for wood flooring that can be installed over underfloor heating, then we would recommend engineered wood flooring. It has a much higher level of stability than wood and is designed to withstand a high heat and moisture tolerance level, and does not contract and expand to the extent that solid wood planks do.
Engineered flooring also has the added advantage of being available using a 'click' system. This not only makes installation simple and straightforward, even over underfloor heating, but as you simply click each board with the next, you can create a floating floor that does not require any glues or adhesives and can be easily taken up again if access is needed to the plumbing underneath.
Do I need to worry about flooring expanding and contracting due to the underfloor heating system?
Engineered wood flooring is specifically designed with layers of timbers and a solid wood veneer, this allows it to naturally expand and contract but without the heat causing warping or damage to your floor. However, the temperature from your underfloor heating should never exceed 27C.
Can I turn the underfloor heating on as soon as my flooring is installed?
Acclimatising your newly laid wood floor is essential to prevent damage. Even if it has been professionally installed, we would recommend turning your underfloor heating on at a low temperature and slowly letting the temperature rise. By avoiding any sudden temperature changes, you are less likely to avoid costly repairs to your floor.
Do I need to have wood flooring professionally installed?
As referred to earlier in the article, engineered wood flooring can be purchased with a DIY interlocking "click" system, which makes installation simple and straightforward. You simply click each board with the next, to create a floating floor that does not require any glues or adhesives and can be easily taken up again if you need access to the plumbing underneath. However, if you have any concerns at all about fitting it yourself or the underfloor heating, then we would always recommend having it professionally installed.
Fitting a wood floor and underfloor heating from Direct Wood Flooring
Direct Wood Flooring have recently launched our new fitting service which is ideal for wood floor installation when you have underfloor heating.
You can either find and choose one of our recommended floor fitters by Using our "Find a fitter service" on our website, or you can let us find an independent fitter that is most convenient for you by getting in touch using our contact page or via your local store. We take all the hard work out of the process by arranging the dates and you just pay the fitter once work has been completed.
Need further advice?
If you have underfloor heating installed or are planning to have it installed before purchase of a new wood floor, then at Direct Wood Flooring we offer a wide range of choice in a variety of colours, finishes and styles, so no matter what you choose you are guaranteed a luxurious and authentic wood finish. We pride ourselves on building exclusive relationships with premier wood suppliers across the world to find the best in high quality wood for our engineered wood veneers and then delivering to you with unbeatable prices.
We also have a highly trained team of experts delivering a wealth of experience in different types of flooring. With free samples, fast delivery, and an excellent Trustpilot rating, you can trust us to help you find what you need.
Use our contact form on our website or alternatively call one of our friendly and expert team on 03308 182 500.