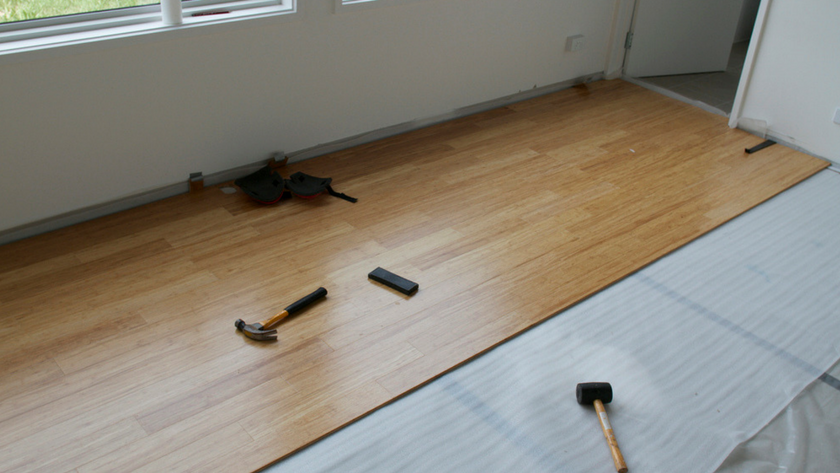 There are a number of factors to consider when deciding on which flooring to purchase. While we typically base our decisions on aesthetics, practicality also holds significant importance. You could be torn between two choices for your kitchen flooring, whether to install yourself or find a flooring fitter to do the job for you. The latter depends on how comfortable you are with DIY, and which installation method your new flooring requires. There are three main flooring fixing methods: Floating Floors, Glue Down and Secret Nailing. To help you decide which is best for you, we've put together a series of guides. Each explains the uses of each specific fixing method, which flooring types are suitable, and the benefits and drawbacks of each one. In the first part on this series, we're looking at Floating Floor installations.
Flooring Types
How it works
A floating floor might sound dubious, but it's simply a term used to describe flooring that is fitted without being fixed to the sub-floor. It doesn't depend on attachment to the sub-floor. Instead, the weight of the floor is enough in itself to keep the flooring in place. If you're laying the flooring on top of concrete, using an appropriate underlay beforehand mitigates the risk of dampness affecting your flooring's longevity. Luxury Vinyl Tile, Laminate and Engineered Wood Flooring are all suitable for floating installations. This is due to them containing a tongue and groove system. Similarly, EvoCore is another flooring that requires a floating floor installation. This is via its featured click-lock system, with some ranges featuring in-built underlay.
Because the Wood Flooring is not directly attached to the sub-floor, this adds a very slight 'spring' to the floor, making it feel comfy underfoot. This makes floating floors popular in areas with high activity, such as dance studios. High-traffic areas such as kitchens are also popular choices.
Residentially, floating installations have gained popularity due to their efficiency when it comes to both time and cost. Cutting out the need to fix your flooring to the sub-floor removes the need for nails, screws or adhesives. This cuts down on the time needed to fit the Wood Flooring. Additionally, the shorter time it takes to fit means reduced installation fees; if you're hiring a professional flooring fitter, the reduced time means you're saving money on labour costs. Considering practicality, floating floors are much more adept at handling frequent changes in temperature and humidity.
Pros
Floating floor installations make replacing damaged planks incredibly easy. Replacing with a new one is as simple as lifting out the damaged plank. Taking up and reinstalling the flooring is incredibly simple. This is also helpful for easy access to pipes, electrical wires etc. which may live underneath your floor.
Your sub-floor remains undamaged using a floating installation, as opposed to gluing or nailing. You only need to lay underlay over the top, leaving the sub-floor virtually untouched.
If your room might experience differing temperatures throughout the year, as well as changing levels of moisture, floating floors are a good choice. This is due to them moving with the humidity and heat, which prevents damage through warping or buckling.
Installation times are cut down considerably, as this fixing method alleviates the need for nails, screws or large amounts of adhesive.
If you're paying a professional flooring fitter, labour costs will be decreased due to the shorter fitting time. The flooring types that use floating installations are usually more cost-effective as well, which further adds to the economic nature of using this fixing method.
Floating floors ensure your wood, LVT or laminate or Evocore work with underfloor heating systems.
Cons
If you're keeping your flooring for a sustained period of time, you may want to sand and re-finish the wood to restore back to its former beauty – especially in high traffic areas. Engineered Wood Flooring can't be sanded as many times as Solid Wood due to the composition of the flooring; the thickness of the solid wood veneer determines how many times it can be re-sanded. Laminate Flooring can't be sanded at all.
Because the flooring isn't attached to the sub-floor, it can move slightly when walking over it. However this is often tiny movements, caused by the underlay compressing underfoot.
A hollow or echoed sound can sometimes occur when walking over a floating floor. This is because it's easier for vibrations to travel between the flooring and sub-floor or underlay. This problem can be prevented by using a good quality underlay.
Floating Floors are a viable option if you value both time and the amount of money you'd like to spend on your new flooring. Although the flooring options may be more cost-effective, cheap wood flooring doesn't mean poor quality. Our range of Engineered Wood Flooring, Laminates and Evocore only use the highest quality products, made exactly to our design specifications to ensure you never have to compromise on quality.
So, we've now covered floating floor installations. In our next guide, we'll be looking at Glue Down as a fixing method, and the pros and cons of using it in your residential or commercial property. Or, you can jump to part three for information on secret nailing.
If there's anything you'd like more information on, our helpful team are on hand with all of the information you need. Get in touch today.