Luxury Vinyl Tiles, also known as Click Vinyl Flooring or LVT, are renowned for the ability to imitate high-end flooring designs to an impeccable standard. Built with multiple layers, the robust flooring not only looks amazing but is the toughest flooring on the market too.
As the flooring of choice for many UK homeowners, LVT 's benefits means it has rose the bar in interior design.  Manufactured with multi-layer construction of solid vinyl backing, high-density glass fibre, PVC sheets and enhanced K-Guard+ PU surface treatment; it will withstand the pressure of a busy household with ease. The individual planks come in easy gluedown or click fixing formats and can be laid in any formation. Whether you go for the popular herringbone design or the more unique tiled patters, the flexibility in design means you can be as creative or regulated as you wish.
How Is LVT Made?
Base
The compact under layers provides the structural support the vinyl needs to perform well. A robust backing cushioned with a layer of glass fibre brings dimensional stability to prevent curling and enables the flooring to lay flat when installed. Additionally, the fibreglass provides a cushioned, soft feel underfoot.
Design Layer
The hyper-realistic design layer is created using the latest design technology to infuse stunning wood, stone and ceramic patterns upon a design film.  A coating of mesh accompanies the design which is grained at a high pressure to create the realistic textures of the anticipated flooring.
Top Layers
A defending wear layer acts as a shield over the design for additional protection. A final coating of K-Guard+ PU surface treatment provides excellent cleaning ability and improved resistance to scratching.
How is LVT laid?
For a professional finish we recommend seeking the help of a qualified fitter, however a self-installation can also achieve impressive results. The type of LVT you purchase will determine the correct fitting method to use.
As with any flooring type, both click and gluedown LVT require a standard subfloor preparation. The quality of your subfloor can hinder the lifespan of your flooring so it's important to get this right.
See also: Wood Flooring or Luxury Vinyl Tiles for Your Kitchen?
1. Moisture
Luxury Vinyl Tiles must only be installed on subfloors with moisture levels below 75% relative humidity (RH). It's important to test your sub-floor prior to fitting using a humidity meter. A damp subfloor can cause the LVT to lift, curl or even crack.
For concrete - Lay a 1m x 1m square of polythene over the anticipated floor. Using tape, seal the polythene to the concrete around the perimeter. Leave this to stand for 72 hours. Peel back the tape take your reading. If the result exceeds the recommended measurement then seek professional help before continuing.
For wood flooring – Take at least 30 moisture readings across the entire area.  Ideally, you're aiming for a consistent average across your readings. If the result exceeds the recommended measurement then, again, seek professional help before continuing.
Make sure your sub-floor is fully dried out before starting your LVT installation.
2. Levelling
Assess your subfloor to ensure it is level. Bumps and dents will affect the overall appearance of your flooring.
For concrete – Tend to any chips, dents or damages. You may require a levelling/ screeding compound to even out the area and create a soft, smooth surface. This will need to be sanded to finish.
For wood flooring - For all wooden sub-floors you will require a 6 mm ply-wood layer to be screwed or stapled to the floor. Where there are joins in the ply you will need to apply a fine finish to ensure that there are no proud screws and the join is level and smooth. This will then need to be sanded to finish.
3. Clean and Clear
For the best results make sure the subfloor is clean and dry, free from oils and bitumous compounds. Any leftover dirt or debris can hinder the performance of the flooring.
The fitting of LVT is the easy part!
Remember to acclimatise your LVT to the room temperature for at least 24 hours before installation and leave a 5mm gap around the edge of the room to accommodate for expansion.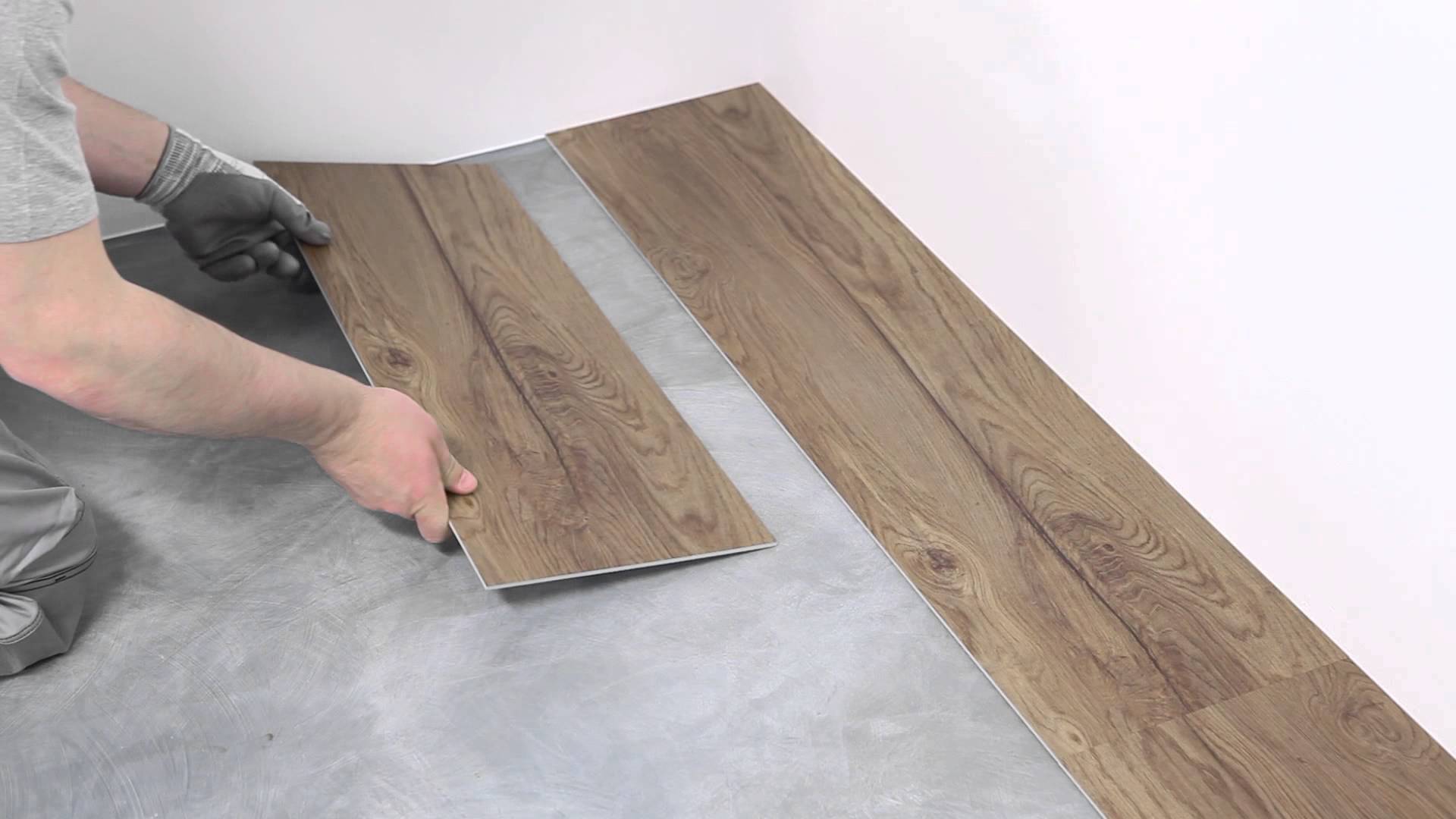 Click LVT does exactly that, clicks together. Each individual plank comes with a click lock mechanism which slots together to hold the planks in place. Installed as a floating installation the LVT planks do not need adhesive. Instead all they require is an LVT underlay to act as a barrier between the two surfaces. This will stop any movement as well as assist in acoustic reduction and thermal retention.
Gluedown LVT requires a layer of adhesive to be applied directly to the subfloor. It's advised to do this in manageable sections to avoid the glue drying. Once the glue is in place; evened out and had sufficient time to cure, you can add the LVT planks. Once fitted, roll over the Luxury Vinyl Tiles to compress the planks and secure the bond.
You may need to cut the LVT into place. A regular Stanley knife with a sharp blade with glide through the planks with ease. Take care when cutting and make sure you follow safety procedures.
Finally add the skirting/trim to the perimeter of the room to bridge your 5mm expansion gap. Fit your doorbars and sweep over the flooring to gather any excess debris.
Congratulations, your LVT fitting is now complete!
We hope this guide has helped resolve any questions you may have. If not, leave us a comment and one of our LVT experts will get back to you. In the meantime, here are some frequently asked questions which may help you:
Do LVT planks click together? Is glue required?
As previously mentioned, our Luxury Vinyl Tiles are available in 2 formats - the variant with which adhesive is used (affectionately known as the "Stick" or "gluedown" variant) and the "Click" variant which would not require adhesive. Click style simply slots together. Each boast impressive benefits, however it is ultimately down to preference as to which one would be more suitable.
Is LVT compatible with underfloor heating?
LVT is compatible underfloor heating however the temperature must not exceed 27 degrees. For click LVT you must ensure your underlay is compatible with underfloor heating too, this allows the heat to evenly distribute - our Timberlay LVT Underlay range is perfect for underfloor heating.
Can you use LVT in a bathroom? Can you use LVT in a kitchen?
LVT is ideal for use in a bathroom or kitchen owing to the waterproof qualities it offers. As contact with water, moisture levels and accidental spillages are typically much more common  in both of these areas, this would make it more at home in these locales as opposed to Laminate, Solid or Engineered Wood. It also tends to be more robust than sheet vinyl owing to its rigidity and as such tends to have a much longer lifespan.
Check out our handy room suitability chart for where to use Luxury Vinyl Tiles: