This week we've been inspired by one of our customers. Carl headed to our Bracknell store to purchase some Herringbone Flooring for a new project. We assumed this was a flooring project. But, when we discovered different, we were impressed by his creative use of wood flooring...
Carl decided that he wanted something to make his living room unique. Rather than searching the internet or going out and buying statement furniture, he decided he would make a bespoke piece himself. Playing on the recent wood flooring trend of Herringbone Parquet, Carl created a stunning and unique piece for his home.
We spoke to him to find out more about how he made a beautiful coffee table from scratch, and what inspired him to take the project on.
Where did you first get the idea for your coffee table?
I purchased my flat last summer and have been using a plain £10 Ikea table ever since. I had wanted a table of this design for some time, but those I could find were either too expensive, or were only offering a laminate wood top, still for a high price tag.
Is it something you've been thinking of doing for a while?
After seeing a few images online, I quickly drew up the table in CAD and worked out how much it would all cost. A few weeks passed, and I then had time to source the materials and buy it all online.
What materials did you need?
I bought Oak Parquet from Direct Wood Flooring in Bracknell. Using online retailers I then purchased two half sheets of 12mm ply, metal for the frame and then plastic adjustable feet – for just 60p per foot! I also bought some new tools, polyurethane finish and paint for the finishing touches.
Can you explain the process you went through to make the table?
I first drew it up in CAD to work out the metal lengths I would need and the Parquet setting out. We tried a few patterns before settling on Herringbone Flooring, this also made sure we achieved the most efficient use of standard 3m Steel lengths. I then glued the Parquet to the ply following pencil lines and once dry, trimmed off the overhang.
Me and my Dad made the frame; we cut the 25mm Equal Angle to suit the table top and then spot welded to hold square. We then cut the rest of the 25mm SHS and welded it all together. My Dad was a mechanic for 15+ years so is pretty good at Welding, but we still had to grind the welds flat before painting with Etch Primer and Satin Black Paint.
Separately I then sanded down the table top to a smooth finish and stained with some walnut wood stain I had left over. I then flatted the stain back (which leaves darker grain), and finished with 2 coats of Polyurethane, sanding between coats.
How long did it take to make?
One evening to make the table top, and a full day cutting and welding the frame. We then spent the last day painting, but this is mainly waiting for it to dry between coats. In total I suppose two full days.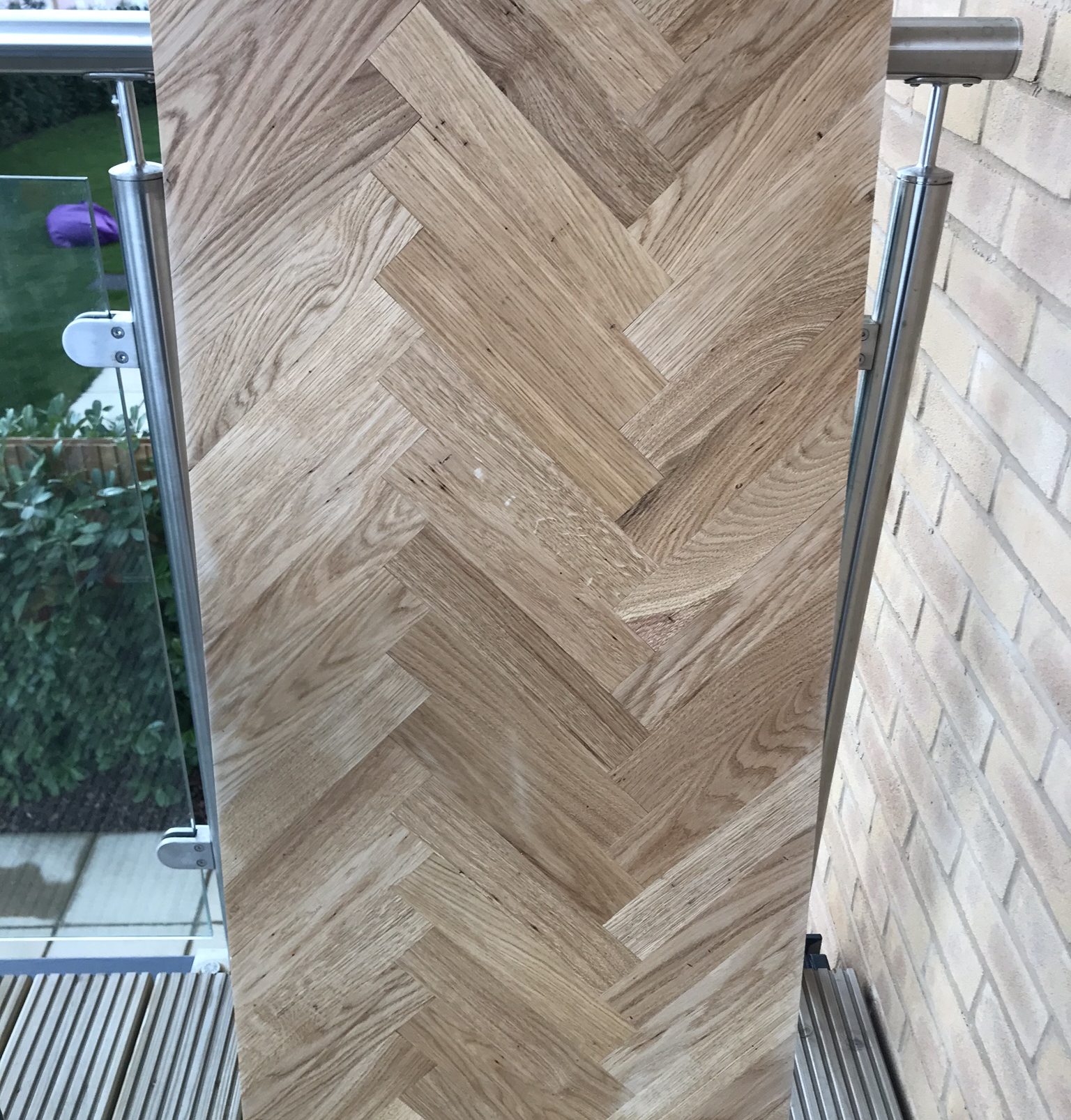 How much altogether did it cost you to make the coffee table?
I use projects like this to afford the tools required (orbital sander, straight edge, circular saw, hacksaw etc. were all purchased for this project). All in, it has probably cost £180 including the tools. BUT we have enough Ply and Parquet to make another out of this! And, we have the tools to use again and again.
Have you got any more projects lined up?
Well we have another top already made and sanded, I am just waiting for hairpin legs to arrive before I finish the second table and put it up for sale!
How pleased are you with the final result?
Very pleased! I have saved money, earned some tools (and a sore shoulder!) and achieved the table I wanted, if not better. It has received a lot of complements already, but I put this down to most people underestimating what DIY can achieve.
The service from DWF was great, and the Solid Oak Parquet Block boards were very nice to work with. For an unfinished product, we found them very even and flat – we couldn't fault them!

We love what Carl's created, and just knew we needed to share it! If you've got a unique use for wood flooring, make sure to tag us in your photos and we'll post them on our social media.
If you'd like to make an enquiry about purchasing wood flooring for your next project, then please either: call our sales team on 03333 201933; email [email protected] or visit our stores page to find your nearest Direct Wood Flooring store.