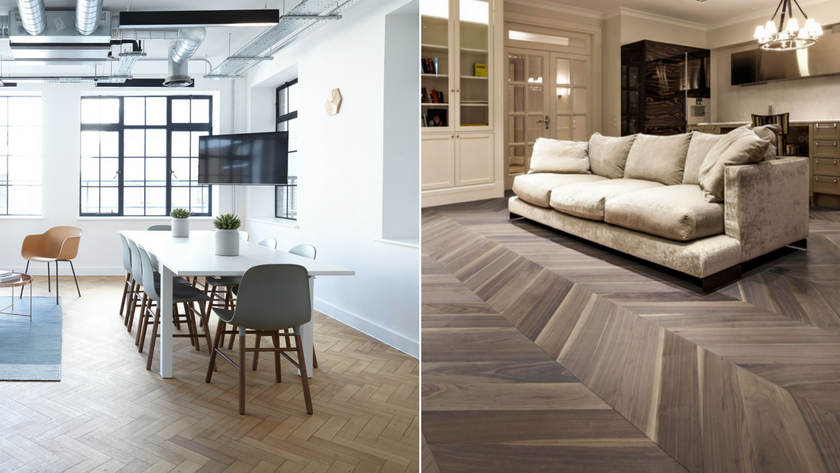 When we hear the words Parquet Flooring, we're instantly reminded of an elegant style that works well in both traditional and contemporary settings. Whatever your décor, parquet adds a touch of style that's sure to make a statement.
Parquet Flooring comes in a number of different colours, which come from the natural colour of the wood or choosing a finishing oil that suits your taste. However, this is the same for most wood floors. So what sets parquet apart from the rest? Historically, the wood planks are laid in exciting geometric patterns that make it stand out as the main feature in any room. Our Perfect Parquet Flooring Guide outlines all of the different looks you can achieve by using parquet in your home.
However, in this guide, we're speaking in-depth about two of the most popular patterns: Chevron and Herringbone Parquet Flooring. We look at origins of the styles, and the main differences between then, to help you make a decision if you're thinking about laying Parquet in your home.
History
Herringbone Parquet has been top of the trends list for a while now, as we highlighted way back in our Wood Flooring Trends for 2018 blog. The design has been around for centuries. The herringbone pattern dates back to as early as 500BC Ancient Rome, which used the design for roadways.
Wood flooring was late to the party; evidence suggests it didn't adopt the pattern until the early 16th Century. One of the earliest examples of Herringbone Wood Flooring is in France's François I Gallery Fontainebleau. It's believed that François I hired Italian craftsmen to complete the flooring during his reign. From there, the design gained popularity and is still visible in many archaic homes. This includes Fontainebleau's Gallery.
The Style
Herringbone Parquet uses wooden blocks that are traditionally smaller than wooden planks. They're cut into perfect rectangles, and then laid in a staggered zig-zag pattern. All of the parquet blocks are the same size and, although it's a staggered pattern, it still creates a very stylish and uniform look. Staying true to its name, the pattern resembles herring fish bones.
Herringbone Parquet Flooring is often seen as the pinnacle of sophistication. Due to its past exclusivity, it's often seen in large manor houses and pricey décors. Nowadays, Parquet Flooring is much more affordable. It's proving to be a popular choice across varying budgets and interiors, and it's easy to see why.
History
The Chevron design also came into fashion during the 16th century, but not in flooring as Herringbone did. It's also called point de Hongrie, which is a style of embroidery from which the Chevron pattern derives. It is thought that the name includes Hungary because it was named for St. Elisabeth of Hungary. The pattern is actually closely associated with Italy. This is another piece of information that links Chevron and Herringbone historically.
The Chevron style once again became popular during the 19th century Hausmann era. The city of Paris underwent a massive rebuild, and numerous new builds featured Chevron (and indeed Herringbone) patterned floors.
The Style
The Chevron design utilises a zig-zag pattern that's similar to Herringbone. However, rather than being laid in a staggered pattern, they're more uniform and are laid to form a true point. The regularity of Chevron Parquet Flooring means it creates a simple and much cleaner look. Due to the pattern's features, it also helps to make rooms look more spacious.
The structured form of Chevron is what usually distinguishes the style from Herringbone. Another way to tell the difference is by looking at the shape of the blocks. Whilst Herringbone uses rectangle blocks with straight edges, Chevron's blocks are cut at an angle. This makes each block's edges fit with the corresponding side of the block next to it. Another variation of Chevron is known as a 'fern' style. This is where a straight line is inserted in the middle to create a tree-like look.
It's easy to tell the difference between Herringbone and Chevron Parquet Flooring if you know what you're looking for. If you're still unsure of which is right for you, our Direct Wood Flooring team are here to help. Call on 03308 088777 or email [email protected].