When choosing your luxury vinyl flooring, commonly referred to as luxury vinyl tiles (LVT), you'll often be presented with two options: click, or gluedown. Both share common ground when it comes to their quality, but there are distinct differences between the two, which we'll cover in this guide.
Click vinyl flooring is perfect for quick and easy DIY installations, and is fitted as a floating floor. Gluedown LVT is cheaper, which in part is due to a lower tile thickness, although professional fitting is recommended. Gluedown can also be combined with feature strips to create grout-style border around each tile.
Click LVT Flooring
Easy and quick to install
More expensive and thicker than gluedown
Cheaper to fit than gluedown
No glue needed
Best for DIY
Gluedown LVT Flooring
Cheaper product than click
Needs a flat subfloor for installation
Use feature strips to create borders
More expensive to fit than click
When choosing between click or gluedown luxury vinyl flooring, there are a number of different considerations before making a final decision. There are many benefits to luxury vinyl tiles, many of which are applicable to both types. However, as well as personal preference, practicality is also called into question. The room's environment, budget and installation methods all come into play.
We've outlined each of the factors you need to be wary of, and how each type of luxury vinyl tile weighs up in each category.
Composition
The composition of luxury vinyl flooring remains relatively similar, no matter if you favour on the side of click or gluedown.
The main difference comes in the thicknesses of the two. Click LVT has thicker tiles than gluedown, in order to accommodate the click-lock fitting mechanism. With this being said, the wear layer protecting the design of the flooring is the same whichever you choose.
Room Suitability
One of LVT's key benefits comes in its room suitability. It can be installed in almost any room in your home, meaning more versatility when compared to real wood flooring.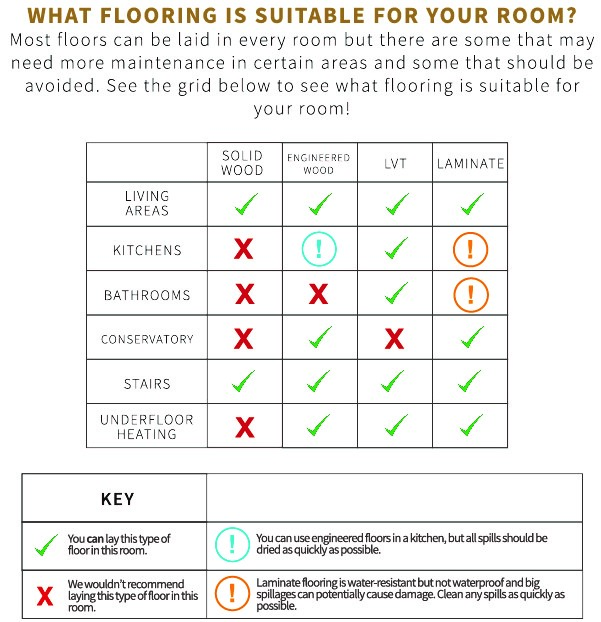 Whether you choose gluedown or click luxury vinyl tiles will depend on the room you intend to lay it in.
Subfloor
Gluedown requires a flat and even subfloor. This is because it's being glued directly to the underneath surface, and any imperfections could show on your flooring. Long-term, an uneven subfloor will cause damage to the underneath of your tiles. The same is true for subfloors with high level of moisture. Over time, the moisture could seep in the tiles and cause disfigurements to your flooring.
Click LVT is less restricted when it comes to the subfloor. However, that isn't to say that you shouldn't still take proper care in preparing or repairing your damaged subfloor. Because click is normally installed using underlay, it's better at hiding subfloor imperfections. Using an appropriate luxury vinyl tile underlay will help to keep moisture at bay.
Temperature
Rooms with fluctuating temperatures will be better-suited to gluedown LVT. This is because it's glued firmly to the subfloor, meaning there's less room for the flooring to expand and contract, which can lead to the floor rising over time. However, you shouldn't encounter these issues with click flooring in a room where the temperature is stable and controlled.
Foot Traffic & Room Size
Another consideration when making your choice is your room's foot traffic. Click flooring will be more comfortable, due to the extra thickness and underlay. However, gluedown is less likely to move and feel the effects of increased foot traffic if it's firmly attached to the subfloor. For this reason, we'd recommend using gluedown LVT in these areas that see heavy footfall.
Room size also plays a big part. Due to its greater stability, gluedown flooring is recommended for larger rooms. Such rooms will have less joint stability if they've been installed with click luxury vinyl. Using gluedown ensures the flooring remains adhered to the subfloor, meaning it's much less likely lift, or to show vulnerabilities at the seams.
Aesthetics & Comfort
When shopping for LVT flooring, aesthetics and comfort are at the forefront of many homeowner's minds. Will the flooring look realistic? Will it feel too hard underfoot without underlay? These are important questions you may be asking yourself.
When it comes to the look of your luxury vinyl flooring, there's often little to no difference between using gluedown or click. The design is the same, and both have textured surfaces to ensure a real wood feel.
The main difference comes in the use of LVT feature strips, often referred to as design strips. Feature strips fit in-between each tile, creating a grout-like design that creates a beautiful border. They aren't compatible with click LVT, as it doesn't fit between the tiles when the click system is in use. Use feature strips if you're looking to enhance the look of your luxury vinyl for a more defined finish.
When it comes to comfort, click vinyl flooring can have underlay fitted underneath it. This, paired with the higher thickness, often means it's more comfortable underfoot than gluedown.
With this being said, both options are warmer underfoot than their real tile counterparts. Plus, they're both compatible with underfloor heating systems, meaning a warmer floor all-year-round.
Installation & Maintenance
Now we get to the real differences between click and gluedown LVT flooring. The clue's in the name, after all!
As well as the differences, however, there are some similarities. For example, both click and gluedown need to be acclimatised for at least 24 hours prior to installation.
Click luxury vinyl flooring is better-suited to DIY installations. This is because it's much less time consuming to fit; not the mention, much easier.
Fitted as a floating floor, click isn't attached to the subfloor. Whilst this is slightly less stable than a floor that's glued directly to the subfloor, it allows for the use of underlay and is often more comfortable underfoot.
For gluedown luxury vinyl flooring, installation requires each tile to be adhered to the subfloor. This makes the fitting process more time consuming and less DIY-friendly. For this reason, we'd always recommend finding a professional fitter for this type of LVT flooring.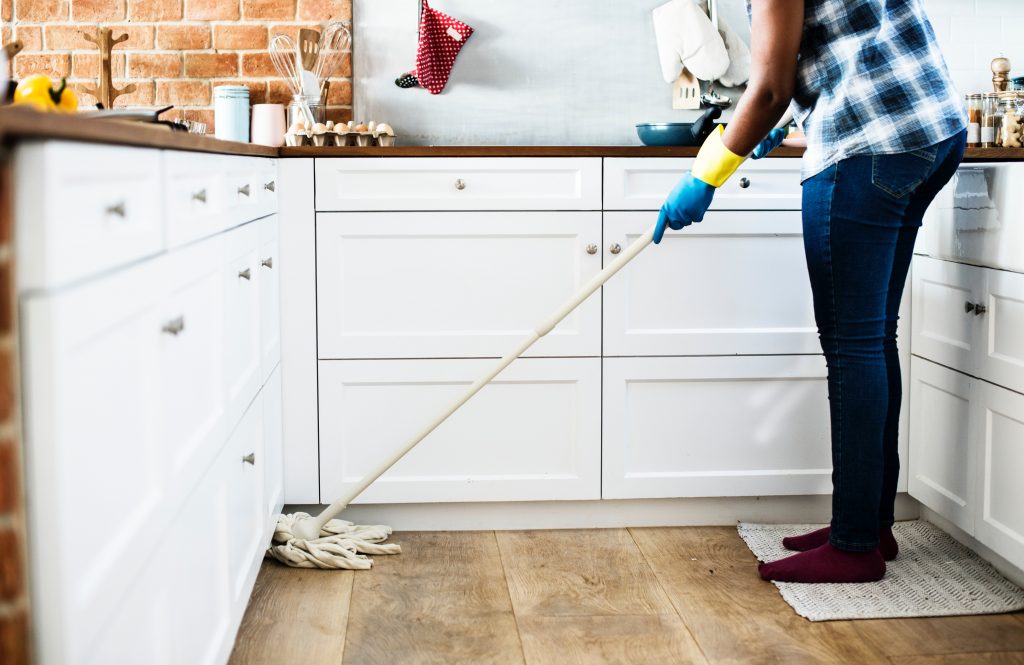 The maintenance of both floors is relatively simple. Because if their robust nature and water-resistance, you can keep to your own cleaning schedule without worrying about damage from everyday dirt or spillages.
To keep your flooring looking pristine, simply brush or vacuum your flooring on a regular basis. Then, you can use a damp mop or specialised cleaning kit to get rid of stubborn marks and kill any bacteria.
Luxury Vinyl Flooring Cost
Finally, we wanted to compare the cost of both click and gluedown LVT.
Whilst click luxury vinyl tiles are more expensive, this isn't to say your flooring project as a whole will be. Whilst the materials are more expensive initially, a DIY installation will save you a lot of money. Even if you were to hire a professional fitter to do the job for you, it would take them much less time. This means less installation costs as a whole.
Gluedown luxury vinyl flooring is less expensive than its click counterpart. This is, in part, due to the lesser tile thickness. However, in reflection on installation costs, you may be required to pay more for a fitter to complete your project. This isn't to say that the cost will end up being the same as if you bought click flooring, as each project is different. You should consult your fitter if you're looking for a true representation of how much the flooring and installation will cost you.
Depending on your room size, your new LVT flooring may be a significant investment. However, with fantastic warranties across all of our LVT ranges, you can rest easy knowing you're covered should there be any faults with your flooring.
To Summarise
Making a decision between click and gluedown LVT flooring may be a difficult one. For some, it can be much simpler. It all depends on your specific needs and personal preference.
If you prefer DIY installations, then click is the obvious choice for you. Similarly, if you're laying flooring in a room with fluctuating temperatures and high moisture levels, gluedown is the way to go.
If you're unsure on which is right for you, we're here to help. Get in touch by calling 03308 088777, or email sale[email protected] for advice from our professionals.