Keeping your flooring in pristine condition might seem like a challenge, but it doesn't have to be. Laminate flooring is a relatively low-maintenance flooring choice. There are a number of ways to maintain laminate flooring, without strenuous cleaning.
To maintain your laminate flooring, you need to:
Take steps to prevent dirt and damage in the first place
Clean up spills immediately
Regularly sweep the surface of your laminate
Use a flat-headed spray mop for a more thorough clean
Make repairs if needed
Preventing dirt and damage
One of the biggest challenges when maintaining your laminate flooring is prevention. This may seem easier said than done, but there are some additional steps you can take.
If your laminate just doesn't seem to stay clean, consider using doormats in any area people (or pets) could trail in dirt from. You could even consider asking guests to remove their shoes.
Using felt adhesive furniture pads will protect your flooring from scratches over time. When a piece of furniture is moved, even slightly, it could leave lasting damage to your laminate. Using felt pads on the bottom of chairs and tables prevents any such damage from occurring.
Clean up any spills straight away
Excess moisture is a big no-no when it comes to laminate floors (or any kind of wood floor for that matter). If left on your floor too long, liquids such as water can soak into the joins between planks and into the laminate. Over time, this will cause your flooring to suffer from warping or other defects.
If you want to maintain your laminate flooring's durability and looks in the long-run, make sure any moisture is cleaned as soon as possible.
Regular sweeping
Laminate flooring comes with a scratch-resistant surface, which makes it perfect for busy areas in homes and commercial properties. With this being said, however, a build-up of dirt and debris and lead to scratches over time. By sweeping regularly, you prevent these scratches from happening.
Using a dry dust cloth or soft-bristled sweeping brush will ensure a quick clean, without causing unnecessary abrasion to your laminate's surface.
Thorough cleaning
As laminate flooring is not waterproof, it's important to keep water to a minimum whilst cleaning. Never use a steam mop on laminate flooring. A steam mop causes moisture to soak in between boards, which may lead to the floor lifting and becoming warped.
If using a mop, we would always recommend using a flat-headed spray mop over a regular mop. Old-fashioned wring mops may leave water standing, which absorbs into the joints and may cause damage if left regularly.
For more cleaning power, you can try adding vinegar to your water (which will also help to prevent water spots forming). There are also a number of multi-use floor cleaners that will help get rid of more stubborn dirt on your laminate. Just always be sure to read the label to check it's 100 percent compatible with your flooring.
View this post on Instagram
For a more thorough cleaning solution, an all-in-one floor cleaning kit will cover everything from your dry mopping to a more thorough clean.
Making repairs
If damages to your laminate flooring do occur, there's no reason to panic. Rather than replacing a plank, or your flooring all together, you can pick up a repair kit to deal with everyday scratches and scrapes.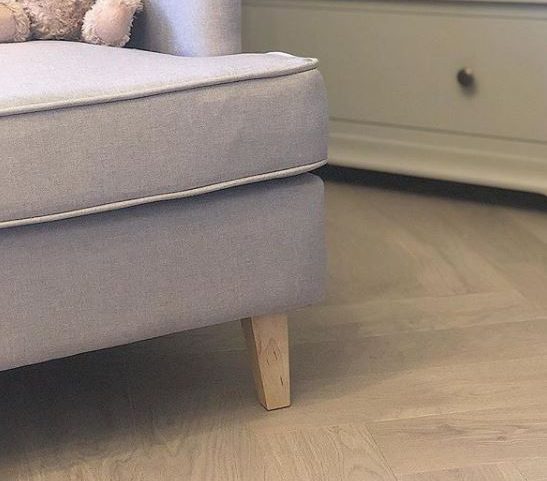 If the damage is irreparable, you may need to replace a plank or two. Luckily, due to laminate's easy click-lock fitting system, making a replacement should be a simple task for any fitter or handy DIY-er.
Laminate flooring is built to last. Regular maintenance ensures it looks new for longer, as well as keeping a solid foundation for anything life may throw at you and your home.
If you have laminate flooring and would like some advice from our professionals, get in touch via [email protected] or call 03308 088777.