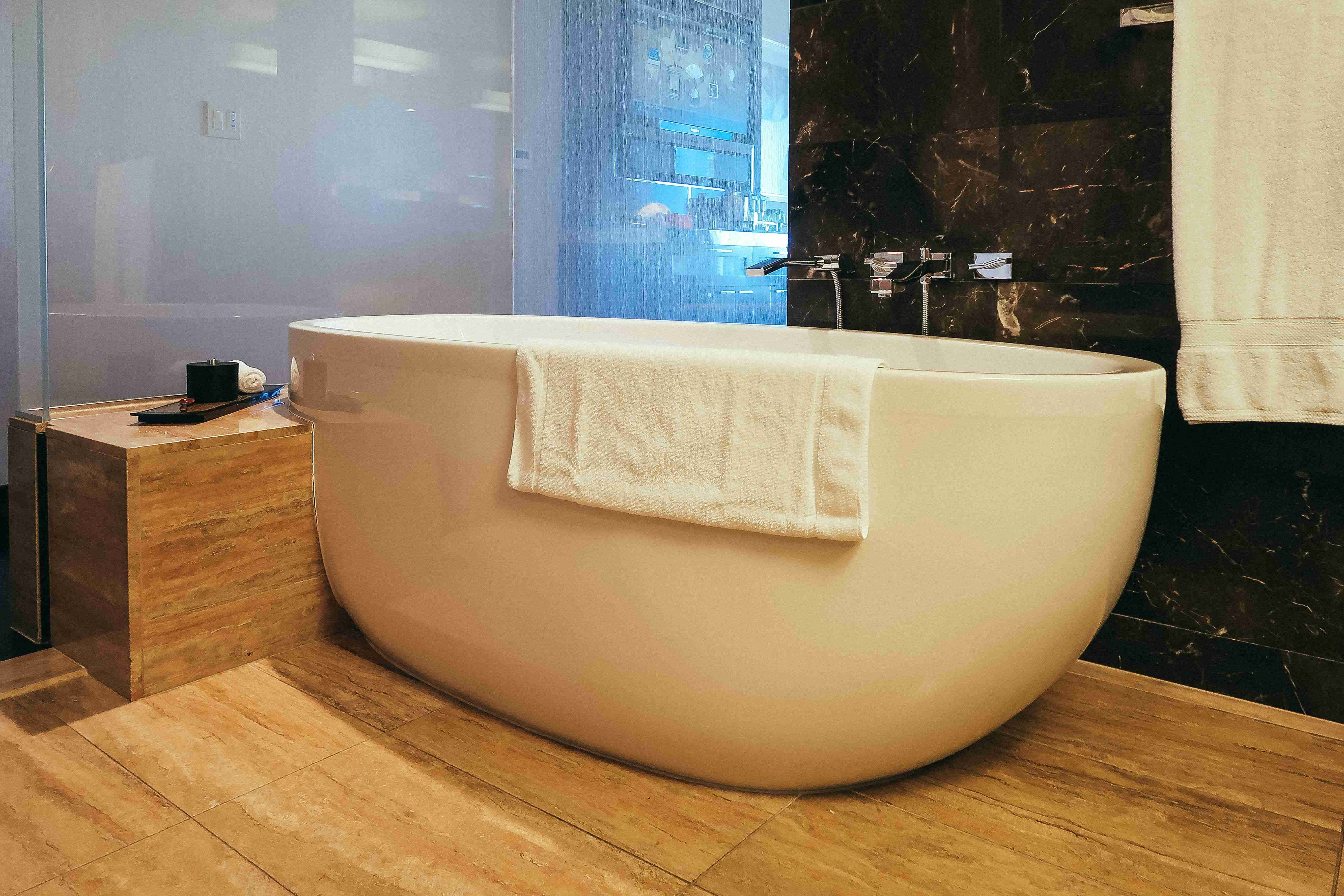 There are no hard and fast rules when it comes to designing the décor of your home. While this opens up endless possibilities in terms of aesthetic preferences and budgeting, it also means that decision-making can be a complicated business. The purpose of a space plays a significant role in the choice of materials, and bathroom areas can pose specific challenges, simply due to the issues of water and humidity. This is especially the case when choosing flooring.
In interior design, wood flooring is a classic favourite – partly because it can be used to complement both modern and traditional aesthetics, and partly because it is among the more durable flooring materials. It provides a natural look and texture that brings warmth into any space and is a relatively low maintenance option in most rooms. In bathrooms, however, the usage of the space can impact both the durability and maintenance of the flooring.
Weighing the advantages and disadvantages
A number of factors influence whether wood flooring is the right choice for your bathroom. The most significant of these factors is the amount and type of usage that the bathroom endures. This consideration is important, because it gives an indication of the amount of water and humidity the floor will need to withstand. For example, a full bathroom that features a shower over the bath used by children and teenagers is likely to see a larger amount of water on the floor than a 'half-bath,' meaning a bathroom with a vanity unit and toilet only. Conversely, a full bathroom used by careful adults only will see fewer spillages and less risk of flooding.
At the same time, factors including the décor should be considered. Wood flooring can be a wonderful feature in any room, but it is important to note whether it would complement the tone and colours of the bathroom in question. The presence of an underfloor heating system is also an influencing factor since particular types of wood flooring enhance the efficiency of this type of heating more than others.
Outside of the practical considerations around wood flooring in bathrooms, there are also many specific advantages and disadvantages that must be carefully weighed in order to make a fully informed choice.
Advantages
If maintained correctly, according to the situation in which it is installed, wood flooring can be a highly durable investment. Damage, such as scratches, dents and gouges can be rectified through sanding and refinishing, all the while adding to the natural texture and aesthetic.
Wood flooring can have a big impact in terms of aesthetics. As a natural material, it brings a timeless look to any space. Its grain contains a myriad of patterns and tones, ensuring that any wood floor is entirely unique. It also creates a sense of comfort and warmth – both in terms of atmosphere and also in the way the material feels to touch. These features mean that wood flooring can complement any interior design choice.
Disadvantages
Wood flooring – particularly hardwood flooring – can lead to pooling in a bathroom. Pooling occurs when a floor is not uniformly level, and water collects in one or more areas as a result. It can be difficult to keep a wood floor completely level, due to the nature of the natural materials. For example, if prolonged exposure to moisture causes even small parts of individual planks to swell or warp, then the potential for pooling is increased. If left unaddressed, pooling can damage planks further, as well as damaging the flooring finish in specific areas.
Structural damage to boards
Both water and humidity can cause significant structural damage to the boards of wood flooring. In any bathroom setting, there is a high risk of spillages and flooding. Wood flooring is generally not suited to dealing with either of these. While the damage caused by spillages can accumulate over time, the material is unlikely to withstand any level of actual flooding. When any amount of water is allowed to sit on wood flooring, it corrodes any protective finish and soaks into seams and natural grain imperfections. Those hardwood floors that are installed by nailing boards in place do not feature effective vapour protection, and water and humidity can again cause structural damage through the nail sites. Damage caused by water and humidity is hard to control and prevent, because it naturally seeps into seams and exploits any areas of weakness in the boards. Such damage can include cracking, swelling, twisting and warping.
Repeated and prolonged exposure to water and humidity can lead to staining of wood flooring, having a negative impact on the natural beauty of the material. In addition, the various products used in a bathroom setting, for both personal hygiene and cleaning, can also cause unsightly staining if not cleaned up immediately.
The damp environment of a bathroom setting gives rise to the growth of mould, regardless of the material used for flooring. Mould thrives on surfaces consisting of natural, organic materials, however, which means that a wood floor in a bathroom is particularly prone to the development of mould. While the floor surface can be cleaned, and the finish of the floor provides some protection to long-term damage, mould can still easily take hold between the boards.
What flooring should you choose?
Having weighed the advantages and disadvantages of having wood flooring in your bathroom, any decision to move forward with the installation should take into consideration the type of wood used. Specifically, softwood is not suitable for bathrooms, because its lower density makes it more absorbent. Hardwood is far more durable, and more suited to withstanding small amounts of water and humidity.
Help from Direct Wood Flooring
When looking for flooring for bathroom flooring, it is important to seek the advice of experts. Direct Wood Flooring is the UK's largest retailer of solid and engineered wood flooring and we boast a team of highly experienced professionals, ready to provide advice and guidance.
We also offer a free sampling service to our customers, which allows a selection of up to four samples from our product ranges. Samples are a great way of helping you choose the right floor for you, not just to make sure that whatever style you select looks great, but to also ensure that your floor can fit your individual requirements for use, especially when considering wet environments such as a bathroom.  
We stock solid wood and engineered wood flooring as well as laminate flooring, parquet flooring, LVT luxury vinyl tiles and wood floor tiles, so you are sure to find a product that works for you.
If you need any help or advice on any of our flooring, then please get in touch with us today to discuss your next project, get a quote, or order your free samples.   
Use our contact form on the website or call us on 03308 182 500.