Underfloor heating (UFH) is a method of heating offices and homes which is showing significant growth in popularity. Most UFH systems work in one of two ways; a 'wet' system or a 'dry' system. The wet system pumps warm water through pipes laid underneath the floor, whereas a dry system uses electric coils to create heat. But what is the best flooring for underfloor heating? Read this guide, or click on your flooring type from the list below to jump straight to the most relevant information for you:
When it comes to underfloor heating, not all flooring is compatible. So ensuring your desired flooring is a perfect is important to gain maximum functionality. Engineered wood, stone and tile, laminate, LVT, Vinyl and EvoCore are all among your options for underfloor heating systems.
Its efficiency is enough to make a substantial difference, especially in rooms that prove to be terribly tricky to heat. It prevents dependency on radiators, and is used in everything from old homes with tall ceilings to spacious modern builds. The extra heat that UHF generates needs to pass through the floor in order to warm the room, and therefore your flooring choice is imperative in order to increase its effectiveness. Here we lay out the best flooring for underfloor heating, and which you should be avoiding to prevent damage to your new flooring.
Preparing Your Floor
When laying any type of flooring, preparing your subfloor is of the upmost importance. This works as the foundation for your flooring, and it needs to be done correctly to prevent issues down the line. If you're going to be using wood or laminate flooring, the subfloor needs to be damp-proofed – especially if you plan on using a wet system, which needs to be screeded over. When working with underfloor heating, a specialist underlay should be used. This is thinner than ordinary underlay and equally distributes heat across the flooring; without compromising on comfort.
Choosing Your Flooring
Underfloor heating plays a massive part in which flooring you should choose. There are some that work fantastically and maximise efficiency, whereas some options could leave you with issues in the future. Here's a list of popular flooring types, where we outline which work best with UFH, and which are best left alone.
Flooring Options to Avoid
1. Solid Wood Flooring - No
Wood Flooring is many people's go-to flooring. Whether it's for the home, office or a renovation project, its durability and timeless style is often unsurpassed. But when it comes to underfloor heating, solid wood flooring is far from being the best choice.
Solid Wood Flooring is known to struggle when it comes to fluctuating temperatures. Excess heat causes wood to expand, which is why kitchens are generally considered no-go's for solid wood. When the temperature lowers again, the wood will then contract which can cause warping. These fluctuating temperatures are a given if you've got underfloor heating – not to mention that wood's a natural insulator, therefore the efficiency of your UHF could be compromised. With these reasons considered, it's easy to see why solid wood flooring is best avoided with underfloor heating.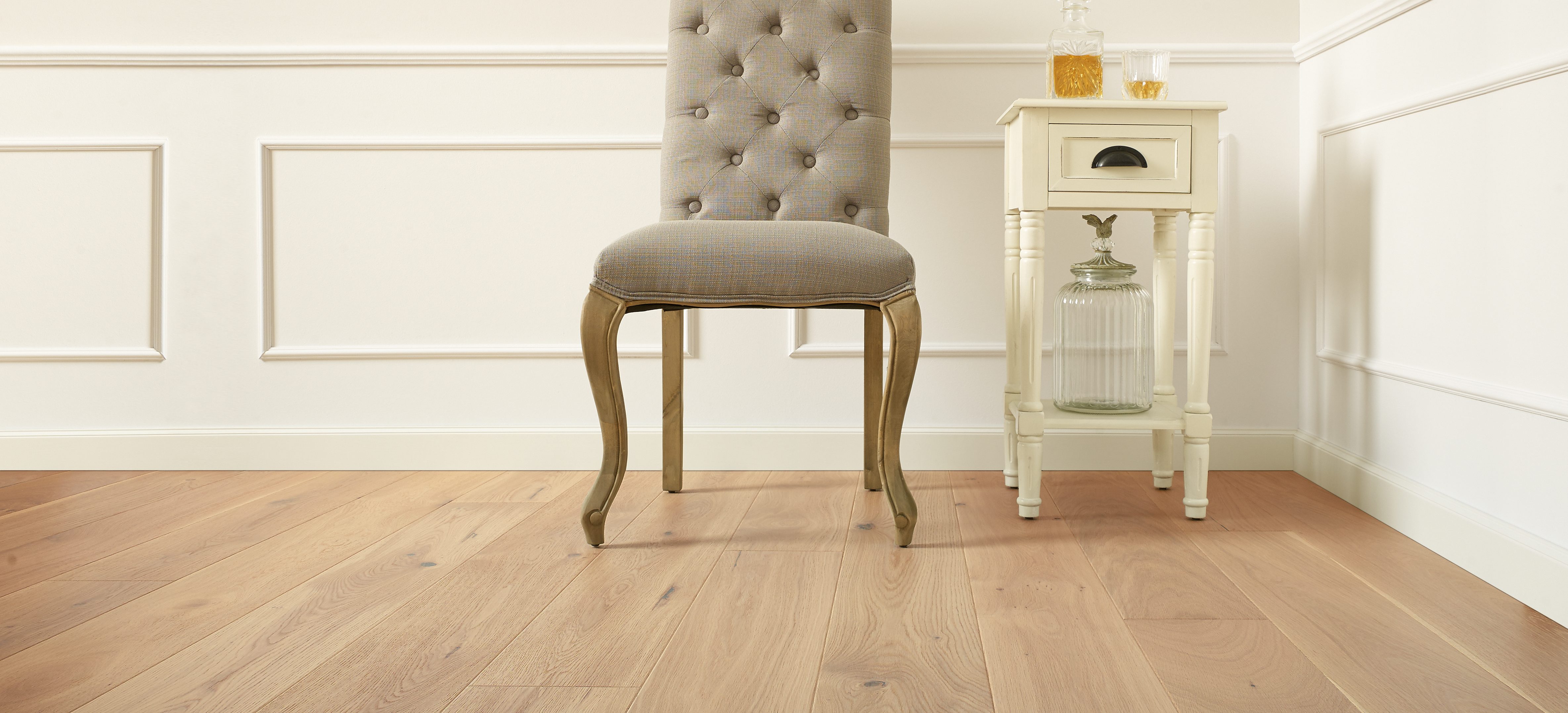 2. Cork - No
Cork flooring is a popular eco-friendly choice which has gained serious popularity over the past few years. However, this is one flooring option that can be misleading, as many retailers state that their cork flooring is suitable for underfloor heating. Although this may be the case, there are a couple of considering factors you might want to take into account.
Similar to wood, cork is a natural insulator. This means that laying it over your UHF could potentially lessen its impact and circulate less heat. The extra heat can also cause your cork flooring to dry out faster, whereas a wet system underneath could cause the flooring to take on excess moisture.
3. Thick Pile Carpets - No
Whilst a thick carpet is most people's preferred choice when it comes to comfort, a pile that's too thick prevents efficient heat transfer. The thickness of materials over underfloor heating plays a big part, as referred to when we suggested a low thickness underlay is the best subfloor option.
It's recommended that if you're using a carpet with underfloor heating, the combined thermal resistance of underlay and carpet should not exceed 2.5 togs. Anything over this would inhibit the effectiveness of your UHF system.
Compatible Flooring Options
1. Engineered Wood Flooring - Yes
Due to being constructed of numerous layers, Engineered Wood Flooring is much less affected by fluctuating temperatures than Solid Wood. However, temperatures should not exceed 27°C and, when first installed, the temperature should be increased in 1°C increments to allow the flooring to get used to the heat.
Engineered Wood boards are incredibly stable due to a core board made of ply layers, which is then topped off with a top layer of solid wood. To be compatible with UHF, it's suggested that the top layer should be no thicker than 5mm and the entire board less than 18mm. This is to let the heat pass through effectively and allow heat to rise. It's also suggested that you glue Engineered Wood together, as the flexibility of wood glue will help the wood to deal even better with changes in temperature.
See more: 6 Benefits of Engineered Wood Flooring.
2. Stone and Tiles - Yes
Ceramic materials and stone are some of the most efficient conductors of heat out there. However, they are less comfortable and expensive to replace should they get damaged, so this choice depends on your overall budget.
If you're planning to use stone or tile with underfloor heating, you can choose whichever thickness you prefer due to its conductivity – obviously within reason.
3. Laminate - Yes
Laminate Flooring works in a similar way to Engineered Wood, by utilising multiple layers to create a stable and durable flooring option. It's still suggested that the total board is no more than 18mm thick to ensure the best efficiency, and the temperature should not exceed 27°C.
The layers of high density fibreboard (HDF) are topped with wood-chip composite that essentially uses a printed photograph to create the wood look. Although it may not be really wood, the final result is often indistinguishable from the real thing.
4. Luxury Vinyl Tile - Yes
Luxury Vinyl Tile (LVT) is a popular choice as it is waterproof, easy to clean and durable. It's also more comfortable than other flooring options, and is therefore a popular choice in kitchens.
LVT Flooring is made to withstand heat of up to 27°C, as is most flooring which is suitable with underfloor heating. It's able to replicate the look of any real wood flooring, and won't hinder the effectiveness of your UFH system. It's a win-win solution.
5. Vinyl - Yes
Vinyl flooring works well over underfloor heating, as long as the temperature doesn't exceed the previously mentioned 27°C. With a wide range of styles and looks to choose from, the popularity of vinyl is justified.
Many tests have been used to test vinyl with UHF systems, and they all found no discolouration, change in appearance or shrinkage. This makes it perfect for dealing with the extra heat.
6. EvoCore - Yes
Underfloor heating is no challenge for EvoCore, our brand new flooring type with full home-wide suitability. As it doesn't expand or contract, EvoCore is the perfect choice if you're thinking of using underfloor heating, with multiple ranges: Premium, Essentials and EvoCore 360, bringing style and versatility to your home. This is a perfect option for UFH compatibility, providing temperatures don't exceed 27°C.
The Verdict
Yes
Engineered Wood Flooring
Stone and Tiles
Laminate
Luxury Vinyl Tile
Vinyl
Thin Carpet – Under 2.5 Tog
EvoCore
No
Solid Wood Flooring
Cork
Thick Carpet – Over 2.5 Tog
So, which is the best flooring for underfloor heating?
With all of the above points considered, there's no cut-and-dry answer to this question. It all depends on your own situation, and a number of determining factors come into play when making your decision. The room in which you'll be laying the flooring, your region's climate and of course budget all play a part in making the correct decision.
Speak to a Professional
It can be a minefield of misleading information and uncertainty when deciding which flooring to use with UHF. Make sure to do thorough research and consult a professional before. This guide should help to give you the information you need, but if you're still unsure you can consult our team for helpful and no-obligation advice. They're ready to answer your questions, so contact them now.