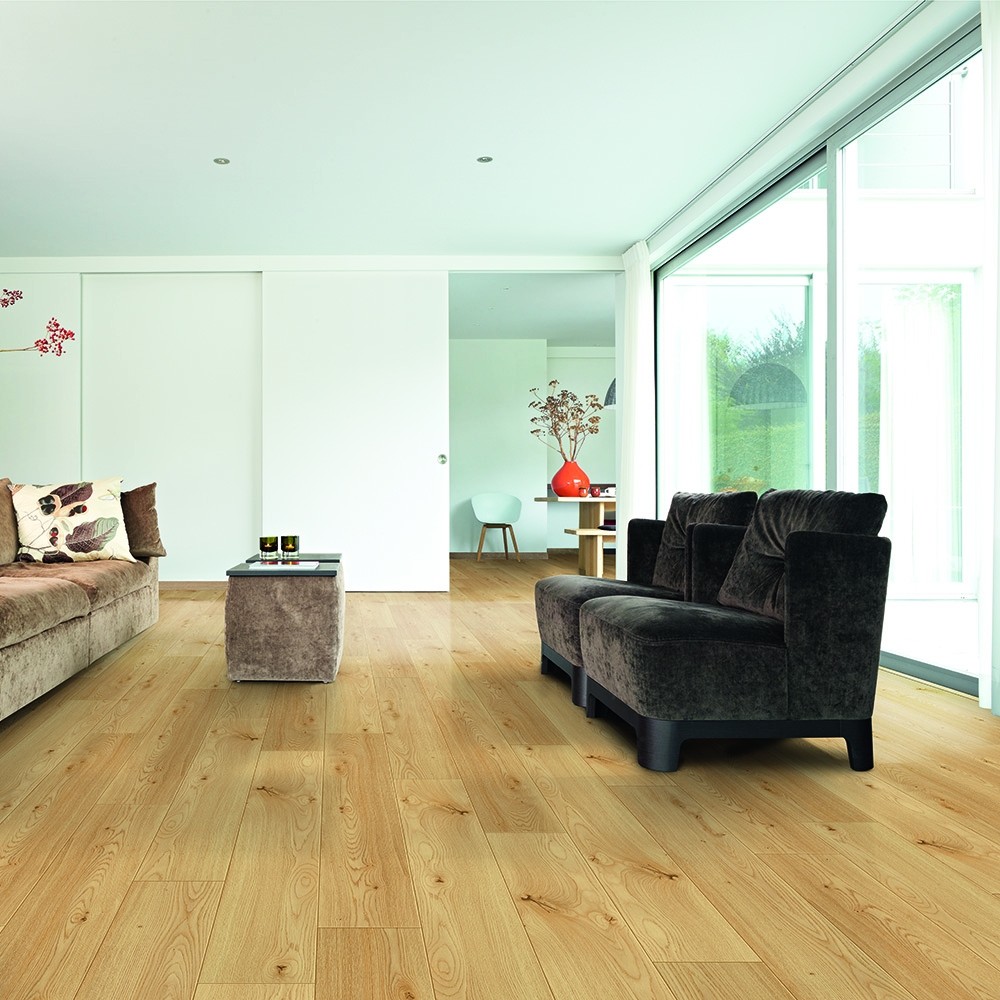 Laminate flooring is a fantastic option for those who want a real wood look and feel for a lower price, or for those who require added durability. If you aren't sure whether laminate flooring is the right move for you, our laminate buying guide blog will cover everything you need to know.
This blog will include both the advantages and disadvantages of laminate flooring, where you can lay laminate, different AC ratings, the best laminate flooring suited to your needs and many more factors that are important to consider.
The Benefits of Laminate Flooring
There are many benefits to laminate flooring. Below is a list of key advantages that you should consider when making the all-important decision on whether to buy:
Advantages
Laminate is highly durable, and can withstand a large amount of foot traffic

It is a great option if you're looking for flooring to put in your bathroom or kitchen, as it does not absorb moisture as much as real wooden floors

Laminate is affordable, and can look almost identical to real wood flooring

With our click-lock fitting mechanism, laminate flooring is quick and easy to install

Laminate is scratch and water-resistant, which makes it perfect for busy family homes, as well as bathrooms and kitchens

Compared to real wood, Laminate is more hygienic and easier to clean, and only requires a regular sweep and the occasional damp mop

The manufacturing process of laminate results in a highly durable and reliable flooring, with highly consistent results throughout each plank
Disadvantages
Laminate flooring isn't the real thing; if you're looking for a 100% genuine wood flooring look and feel, you can only find that with real wood flooring

Wo

od flooring tends to have a longer lifespan than laminate, as it can be sanded and refinished
Where Can You Lay Laminate Flooring?
Laminate flooring is a great choice for any room in your home. The strong durable surface, coupled with the wide range of styles of colours, provides a huge range to choose from. The easy click installation that we include on all of our laminate flooring makes the laying process much easier.
While laminate is great for any room, you need to make sure you use AC5-rated laminate for bathrooms; this is because this rating of flooring is able to withstand high amounts of moisture, due to its higher durability and rough, textured surface. AC ratings depend on which laminate flooring your looking at.
Laminate AC Ratings
To put it simply, AC ratings define how strong and durable the said laminate is; the higher the number, the stronger and more durable the flooring is. An AC4 rating is our most common rating with laminate flooring. Its also important to remember that a high AC rating doesn't mean its the best laminate flooring you can choose from, the AC ratings of laminate all serve their own purpose that will be preferred by different people.
Laminate Flooring gets its AC rating by being put through rigorous testing. This is to determine how resistant it is to abrasion, moisture and a number of other different factors. 
AC ratings range from AC1 to AC5 - AC1 being the lowest score, with the laminate's strength increasing with each higher rating. 
AC5-rated laminate is used more commonly in commercial areas like shops, this is because it can withstand a very high amount of pressure and foot traffic.
In order to receive an AC rating, the laminate has to pass each test. If it doesn't, it will not receive a rating. For this reason, the AC rating is a sign of quality in laminate floors. The AC ratings can vary depending on which laminate flooring you choose.
AC1
Suitable for moderate traffic. Best suited to use in bedrooms or guest rooms.
AC2
Suitable for general traffic like Dining or living rooms.
AC3
Suitable for heavy traffic. Generally suitable for all areas, especially areas such as hallways.
AC4
Suitable for moderate traffic in commercial spaces. Think small offices, cafés or smaller retail outlets.
AC5
Suitable for heavy traffic in commercial spaces. Large department stores, public buildings and large offices.
Thickness Variety in Laminate Flooring
Thickness is an important factor to consider when deciding on which laminate flooring is best suited to you. A thicker laminate will provide a more real wood feel, the thicker depth also results in a more detailed etching. A thicker width can also reduce echo in your room.
A thinner Laminate Flooring may not include as many benefits, however, it is considerably cheaper.
Laminate flooring is manufactured between the thicknesses of 6mm and 12mm. Usually, a durable laminate floor is between 10mm and 12mm, however, if your subfloor is level and adequate, 7mm or 8mm is definitely an option.
What is The Best laminate Flooring For Me?
Laminate flooring opens up a range of different options that you wouldn't be able to find with many other kinds of flooring. If you're looking for a walnut appearance, a natural-toned wood look, or even a stone texture, we have the range to suit your taste.
Of course, this wouldn't be a laminate buying guide without mentioning Grey Laminate. It has become a massive trend with interior designers and homeowners alike. Its natural-looking tone and colour help the flooring blend into any interior effortlessly.
Pricing
Compared to real wood flooring, laminate flooring is very cost-effective, which is a great option for those on a budget. Shown below is an example of our different ranges of laminate flooring based on price point. Ranging from low cost and budget-friendly to higher price ranges, there are various specifications to suit your needs and preferences.
Conclusion
The best laminate flooring for your needs comes down to both personal preference, as well as overall practicality when evaluating how often the flooring will be walked on. Laminate flooring is one of the best replacements for wood flooring that you can get, both have their positives and negatives. However, laminate is getting closer and closer to the real thing, and can offer many advantages that real wood flooring may not be able to provide. Take the advice in this laminate buying guide to help you in your decision.
If you have any further queries or questions, be sure to call us on 03308 088 777 or leave a comment below.