Finding your perfect parquet flooring isn't so easy when there's a huge range of designs, colour tones, finishes and patterns to choose from. You can spend hours searching Pinterest, googling and browsing through the latest wood flooring trends.
STOP!
We can help you…
What look are you going for?
Narrow down your search by deciding on the look you want. There's 3 simple choices:
1.   Dark Parquet Flooring
Bringing traditional authenticity and rural charm, dark parquet flooring demands your attention. Looking fabulous in these kitchen and living areas, the contrast with white décor really enhances the effect of the flooring; making it the core focal point of the room. Dark parquet is renowned for the statement it makes as it transcends elegance and charm. If you're looking for a flooring with real character then look no further than the traditional dark parquet.
Tip: Stick to light furnishings if you want to embrace dark tones. Dark flooring with dark surrounds can block the natural light from reflecting round the room.
2.   Natural Light Parquet Flooring
Natural light parquet is an extremely versatile range. Blending effortlessly with furnishings and décor, this stunning flooring range will complement all home settings.
Particularly popular with contemporary and eclectic styling, light parquet doesn't need to be the centre of attention to be recognised. The instant association with high end flooring and the ability to enhance surroundings makes it a great choice for those who love to make a statement with their décor.
Tip: Light colour tones are great for brightening up dark areas whilst magnifying open spaces in lighter settings too. Minor marks and defects are also much harder to spot on lighter flooring.
3.   Coloured Parquet Flooring.
Unfinished parquet flooring provides the ideal blank canvas to get creative. With a whole host of coloured oil tints available to choose from, you can make your flooring as unique or formal as you want. From traditional honey and amber tints to the more adventurous statement colour ranges, each plank absorbs the oil whilst staining the wood in the process. Leaving you with stunning coloured parquet flooring - guaranteed to wow your guests!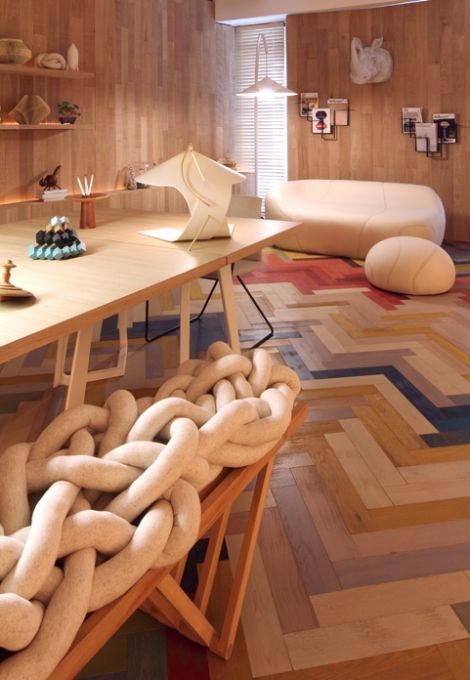 4. Modern Grey Parquet Flooring
When it comes to grey parquet flooring, we have a whole new ball game. Trending in the wood flooring industry, grey flooring has seen a surge in demand for use in residential properties. It could be due to the effortless style it adds to our homes, the practicality of the colouring or even the array of modern designs available in stunning grey colour tones. Whatever the reason, grey parquet will certainly leave a lasting impression; bringing a modern twist on the traditional parquet range.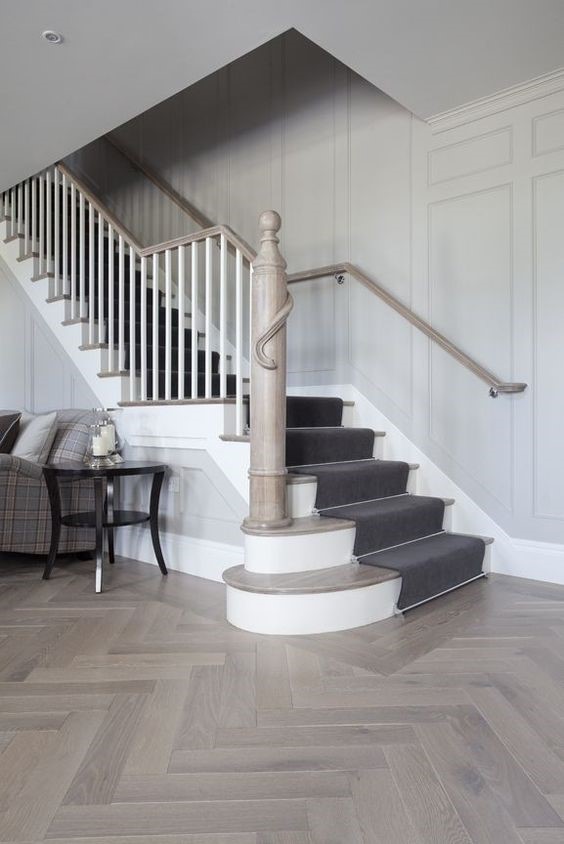 So by now you should have some idea of which flooring you prefer based on aesthetics. Now it's time to think practical. The thickness of the plank and veneer will depend upon the usage. Thicker ranges tend to perform better in heavy traffic areas and have a longer life expectancy due to the ability to re-sand and re-surface multiple times. Thinner planks are more cost efficient for low traffic areas.
The width of your parquet is also important. Narrow boards have the ability to elongate a room where as wider boards look great in large open spaces. They also showcase the detail in the planks, displaying more of the natural wood knots and grains.
Choose A Pattern To Be Proud Of!
Parquet blocks are known for the inspirational patterns they form. From traditional Herringbone Parquet to the intricate detail of Arenberg, the unique designs make parquet highly sought after for both residential and commercial properties. Hotels, in particular, tend to use parquet in display areas such as an open lounge or dining area and lifts. The stunning patterns grab your attention whilst the instant association with luxury sets the standard. Home owners tend to stick to less complicated herringbone or chevron designs as these are easier to lay, whilst guaranteed to look great.
The possibilities are endless when deciding which parquet design to go for. We suggest you take your time in deciding and draw up a draft prior to fitting to see how your finished flooring would look in your home. This also gives you the opportunity to take accurate measurements and establish where cutting would be needed. The last thing you want to do is fit the flooring and the pattern doesn't align or look how you anticipated.
The following patterns are the most popular parquet designs trending in the flooring industry:
All you have to do is pick your favourite!
So there you have it, you've got your parquet colour, thickness, width and pattern - it's time to call on those trusty DIY skills and get installing your perfect parquet flooring.
Not keen on a self-installation? No problem. Check out this helpful Finding a Fitter Guide to find a professional fitter in your area.