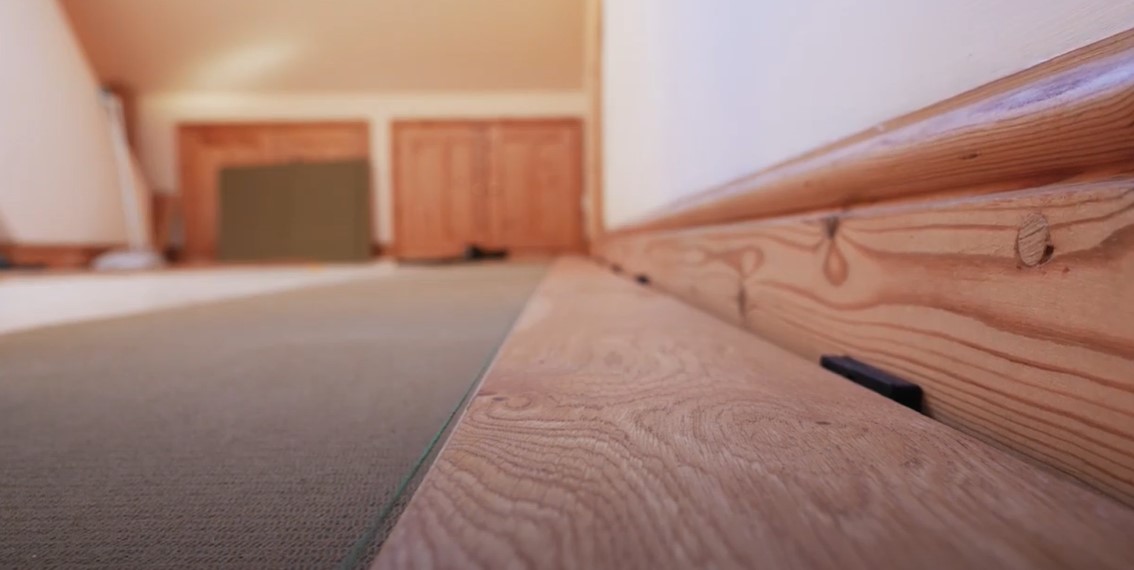 Do I need underlay? Which underlay should I use? Is there a difference between wood flooring underlay and laminate flooring underlay? We're here to answer these questions, and explain the importance of new underlay should you need it. 
When creating your dream home, it takes a lot of deliberation. Flooring, as well as which accessories to use, bear no exception. 
We know there's one subject that has potential to cause confusion: underlay.  To make your decision easier, this post covers all you need to know about flooring underlay. 
Depending on your flooring type, as well as fitting method, you may or may not require underlay. If using a gluedown installation, underlay shouldn't be used, but secret nailing and floating floors can use underlay. Extra comfort, prolonged flooring lifespan, increased insulation and noise reduction are all key benefits of using underlay. However, make sure to use new underlay with new flooring to make the most of these benefits!
From flooring types to fitting methods, we've got you covered with all the information you need - all in one place.
Do You Need Underlay?
Now, you may have been told to purchase new underlay as an essential, but whether you actually need it is another story. 
Flooring underlay is a soft cushioning that sits between your flooring and the surface you're laying it on. Underlay offers a number of benefits, should you require it. 
We'll run you through these benefits in a moment, but for now, we'll delve into fitting methods and flooring types to see whether you'll require underlay or not.
Flooring Fitting and Type
Gluedown 
As mentioned above, there are some fitting methods and types of flooring that simply do not require the use of flooring underlay. The gluedown method is one of them. 
This technique consists of the application of a strong adhesive (made specifically for wood) to the subfloor in small, workable sections. Glue is also used in-between each of the planks' 'tongue' and 'grooves', and slotting them into place. 
This fitting process can be used on all wood flooring types including: parquet, laminate, engineered wood and luxury vinyl tiles, but is mostly used on solid wood boards. The nature of the process does not allow for the use of underlay. 
Secret nailing
This technique can be applied to wood flooring types such as: parquet flooring, engineered wood flooring and solid wood flooring. 
Secret nailing is a method that allows for underlay to be brought into the equation to reap the benefits wood flooring underlay brings. However, it is not entirely essential and the use of underlay is dependent entirely on the room you're wanting to fit the flooring in.
This process works by driving nails through the 'tongue' of the floorboard at a 45 degree angle, and into the subfloor. This fixes the flooring firmly in place and prevents any gaps forming.
If your flooring is being laid on a ground level, it has less of a requirement for underlay than if it is being laid on a higher level floor. This is because there is less need for noise reduction affecting floors below. 
Floating floor
This installation technique seeks no 'yes or no' consideration as the floating floor method requires the use of underlay. 
Though not actually hovering in mid-air as the name might suggest, the need for underlay stems from the floor not being attached to the sub-floor. This leaves room for slight movement when walked upon. Good quality flooring underlay reduces this movement and adds comfort underfoot.
Commonly used with: engineered wood flooring, laminate flooring, luxury vinyl tiles, and Evocore360 that boasts its very own EvoCore Underlay. This is a popular method with lots of advantages, though excites some exceptions to the rule. 
Purchasing Evocore Essentials and Premium eliminates the need to purchase any flooring underlay at all; these ranges have underlay built in, making for an easier decision. 
Types of Underlay
Decisions of this nature may seem difficult, only because the options out there are plentiful. However, narrowing down your options becomes a lot easier when you're given the knowledge to inform your decision. 
Below we explore the different types of underlay and their compatibility, to help you ensure you go away knowing your dream home is one step closer to completion.

We're finally at the part you really want to know. Why should you use underlay? 
Benefits of Underlay
You know whether or not you need underlay, and you know which underlay is for which flooring. But what exactly are you getting out of it? Believe us when we say… You'll be pleasantly surprised.
Increased comfort - Underlay introduces a cushioned feel to the flooring. It softens your strides and alleviates any discomfort underfoot. 
Prolongs flooring lifespan - Underlay's cushion helps to absorb some of the shock from playing children, to clumsy drops. Wear and tear are reduced substantially, increasing your floor's longevity. 
Noise reduction - Underlay for flooring adds density, and provides another layer to absorb more sound made by walking, running or any movement on the flooring above. 
Reduces heating bills - Underlay acts as an insulating layer that helps trap heat, meaning your space is kept warmer for longer. 
Environmentally friendly - You'll be pleased to know that we pride ourselves in doing our part for the environment, and our new range of Eco Underlay is made from 100% recycled materials, as well as being recyclable.
Certain types are compatible with underfloor heating - Got underfloor heating? Not to worry, we have flooring and underlay that are compatible to ensure you still acquire the benefits of a heated floor.
Enough benefits for you? The practicality of underlay is invaluable; which is exactly why we recommend you take the necessary steps in finding and marrying up the perfect combination to suit your needs. 
New underlay
Underlay is important, but what's more important is using new underlay when laying a new flooring. Why? Because as time goes on, these benefits begin to fade with natural wear and tear. To get the most out of your new flooring, make sure you pair it with a new underlay.
Investing in new underlay to replace your old one allows you to make the most of the benefits good quality underlay bestows. Whilst not on show to see the wear, the old stuff has been walked on just as much as the flooring you're about to replace. Buying new will improve your experience with your new flooring purchase as well as prolonging the lifespan of it.
Wrapping Up
We've covered the in's and out's of the factors that play a part in ensuring your new flooring journey is as smooth as possible.
Remember the key considerations to keep at the forefront of your mind when weighing up your decision. Does the flooring fitting and type require underlay? If so, what underlay is compatible with your chosen flooring? All that's left to do now is to start browsing for your perfect product!
Still not sure? Get in touch with our flooring experts today for the best advice for your new underlay.