That's right, we're starting early with the Christmas jokes. Aside from making terrible puns, we're also curating some of our favourite festive interior ideas you can apply to your own home.
All White Everything
Okay, maybe not everything. But choosing white as your base colour will help those bold Christmassy colours pop.
Because of its neutrality, most design elements you decide to decorate with will complement a white interior. Natural materials such as wood perfectly pair with white, and give off a Scandinavian vibe which is proving so popular in modern interiors.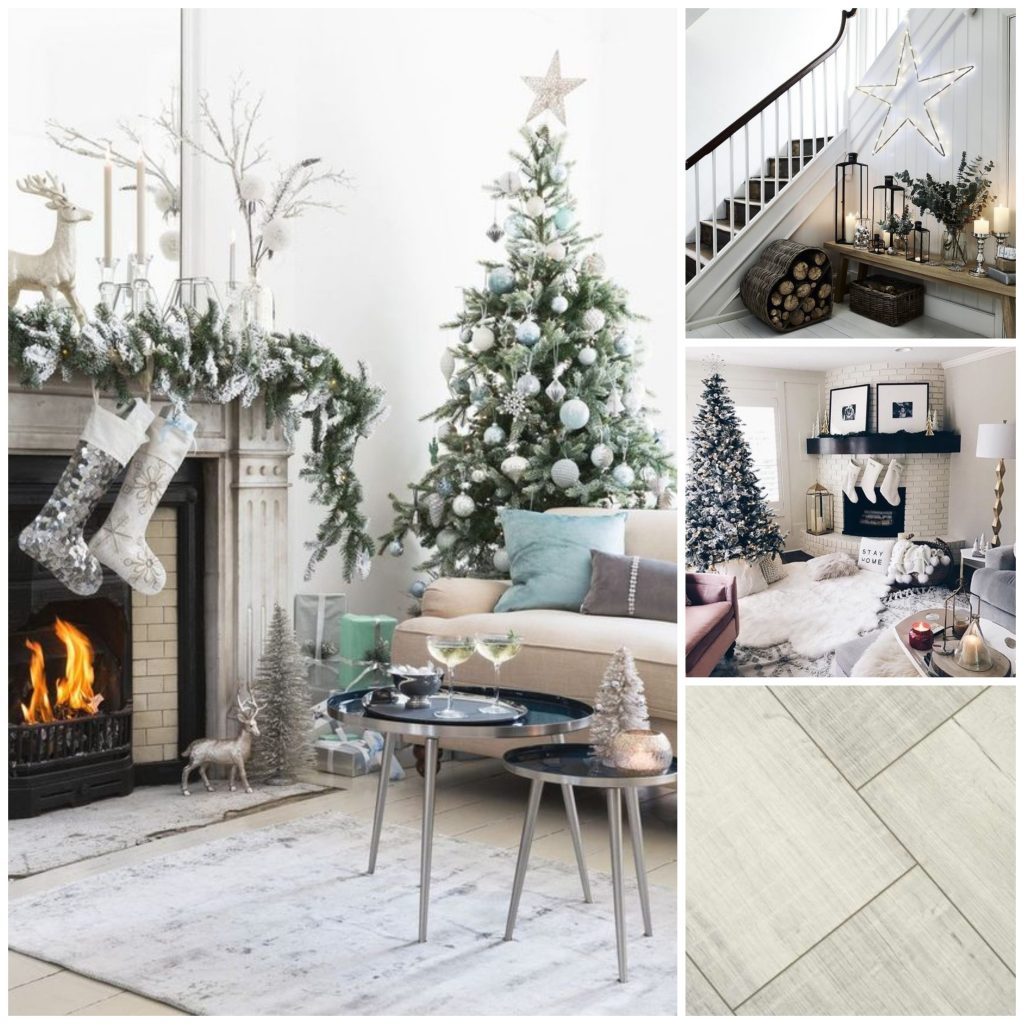 White engineered wood flooring will no doubt create a stunning look in your home. Plus, the added durability of an engineered floor ensures you're covered if you're hosting any festive get-togethers!
A white interior, whilst primarily contemporary, can also work in traditional settings. Splashes of white from tree decorations and dinnerware are great examples of this. They'll add a bit of character, whilst still maintaining your home's natural charm.
Cosy and Comfortable
Many people opt for comfort when it comes to their interior preferences. As the cold weather draws in and the night become longer, there's no doubt comfort is key for many.
Cosy up with warm blankets and plush pillows. Fairy lights and the lights from your tree will also create a cosy feel. Pair this with scented candles, and you're on track for a relaxing interior you won't want to leave.
Wood Flooring for Cosy Interiors
| | | | | |
| --- | --- | --- | --- | --- |
| Parquet | Engineered Wood | Laminate | Luxury Vinyl Tile | Solid Wood |
| | | | | |
| | Manhattan Prestige Oak | Villa Harbour Oak | Florence Click Forest Oak | Chocolate Oak |
The growing popularity of the Danish concept of 'hygge' has contributed massively to cosy interior inspiration. You only have to have a quick Pinterest search on the topic to find your next idea for the festive season.
Timeless Vintage
Decorating with various knick-knacks and antiques is a fool-proof tactic when preparing your home for Christmas. Surround yourself with items that have a story behind them. Reminders of your favourite family holidays, spontaneous trips or family members are in the true spirit of the festive season.
Vintage items can be picked up for pennies if you know where to look. Charity stores are the best place to pick up bargains, especially if you don't mind decorating your home with pre-loved pieces.
Going vintage often means a slight rustic look. A brushed and lacquered wood floor accentuates natural grains and knots. This is perfect for incorporating a hint of rustic into your interior design.
Go Gold
What would Christmas be without a little gold? Using sparingly and in the right way, golden elements will give your décor a beautiful uplift.
Start off with glints of gold on your tree, and extend this to decorations such as vases and candlesticks. You could even coordinate your present wrapping to go with the gold theme.
Gold accents are proving popular within geometric patterns. Whether it's in your wallpaper or accessories such as throw cushions, subtle use can work wonders for your interior.
However you're preparing for the festive period, your home is sure to undergo some sort of makeover. Share your inspiration with us on social media, and get in touch if you'd like to find a flooring to suit your plans. Either call 03308 088 777 or email [email protected].