Grey wood flooring is one of the most popular flooring colours on the market. Taking over modern interiors, we can't seem to get enough of grey laminate, grey solid oak, grey engineered wood or grey luxury vinyl tiles. Perhaps it's due to the effortless blend with décor and furnishings, the practicality of the colouring or simply the fresh, clean feel it brings to a room. Regardless of the reasoning, grey wood flooring has become a strong contender in the industry. If you're considering it for your home, these handy tips will help you get the most from your new flooring.

Decor
Perfect for living rooms, dining areas, bedrooms and conservatories - there's even a range suitable for kitchens and bathrooms. You don't need to worry about grey flooring matching your décor either, as one of the most versatile flooring ranges on the market it is renowned for the ability to compliment subtle décor or enhance bold furnishings.
Grey Laminate Flooring: Tiled Effect
When it comes to laminate flooring we have a game changer on our hands. The hyper-realistic decorative layer imitates luxury flooring designs to an impeccable standard. From tiled effect to traditional wood planks - there's a whole host of luxury options to choose from at affordable prices!
Take peek at this grey tile effect laminate; capturing the detail and class of marble flooring at a fraction of the price.
Grey tiled laminate is perfect for contemporary styling too. This orange sofa looks great in contrast to the grey tile effect flooring. The dark tones accentuate the orange to create a stunning feature piece.
TIP: When it comes to choosing which grey tile effect to go for, you may want to consider the size of the room. Larger tiles perform better in open spaces and are much more efficient for covering larger surface areas as less boards are needed.
Grey Laminate Flooring: Wood Effect
If a modern Scandinavian design is more your thing, then light grey wood flooring will blend effortlessly with surrounds to create that stunning minimalist look. Whilst still adding character through the authentic wood knots and grains, light grey wood is the perfect complement to natural décor. It's also great for brightening a room as the light reflects across the surface of the floor.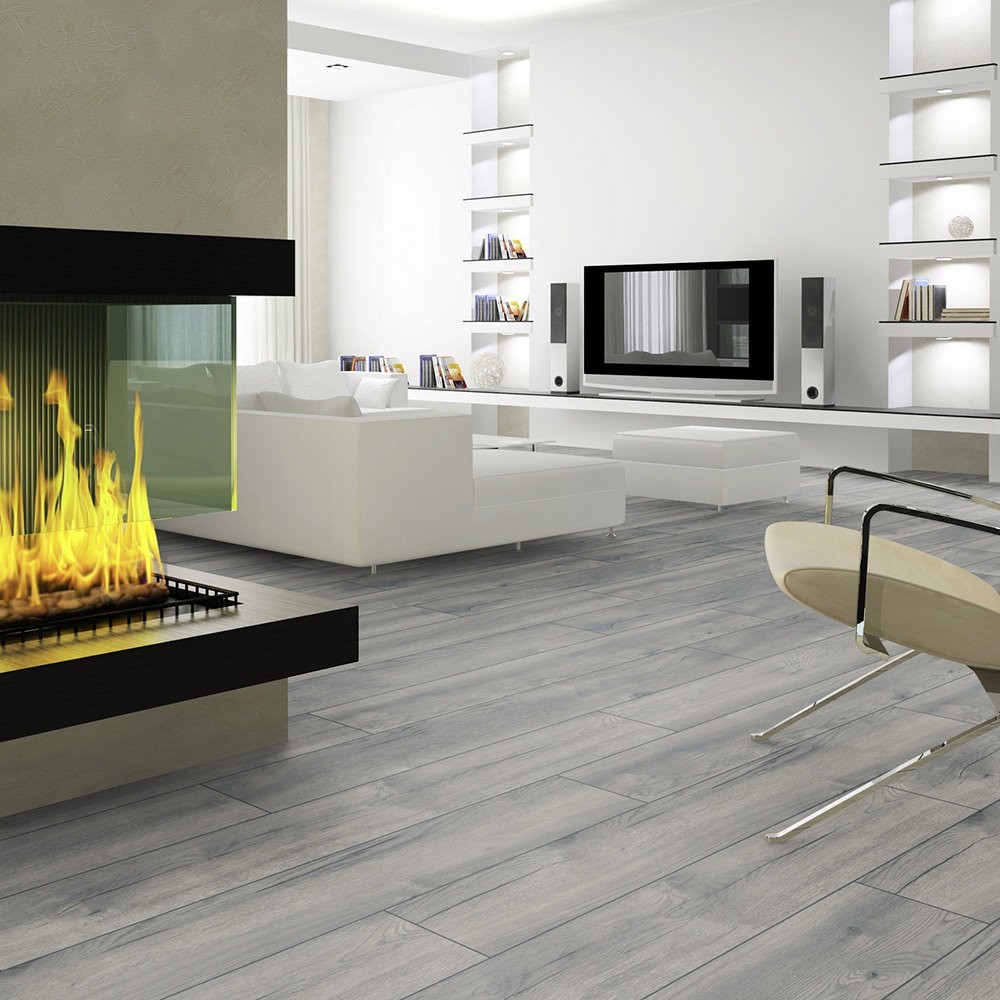 Regardless of whether you go for the grey tiled effect or grey wood planks, laminate is the perfect range for trend setters and homeowners that simply love a bargain. The impressive lifespan means it will last an average of 15-25 years. However, for those of us who love to restyle more often it won't break the bank to replace.
TIP: The easy click lock system means laminate is perfect for a floating self-installation. Anyone with basic DIY skills can give it go - saving you a small fortune on fitting costs!
When you think vinyl flooring forget about dated vinyl designs, think robust, durable, elegant style. Luxury vinyl tile is manufactured with only the highest quality vinyl, and finished with a superior wear layer. Advances in modern technology has allowed 3D printing to deliver impeccable realism and depth to the designs. Often difficult to tell apart from the real thing, LVT not only looks amazing but is a practical flooring too. Capable of withstanding the effects of moisture and heat (making it perfect for use with underfloor heating), it is the perfect solution for bathrooms and kitchens. It is available in either wood or tile effect options too - all you have to do is pick your favourite design!
Grey Solid & Engineered Wood Flooring
Solid and engineered wood flooring is renowned for the incredible quality, longevity and stunning aesthetics. The addition of modern grey colouring only adds to the appeal.
This dining area looks fantastic featuring the slightly wider solid grey wood boards. The open space is great for showcasing the detail in the planks, whilst the minimal choice of décor works perfectly to draw your attention to the fabulous grey flooring.
TIP: To really exaggerate the knots and grains go for wood flooring with a brushed and oiled finish and a wider plank width. The oil enhances the natural features whilst a wider board provides sufficient space to showcase the detail.
As with all flooring ranges, when it comes to choosing which design to go for personal preference will always prevail. However, knowing which is most practical for your needs will help with the overall performance. This handy chart compares flooring ranges based on room suitability: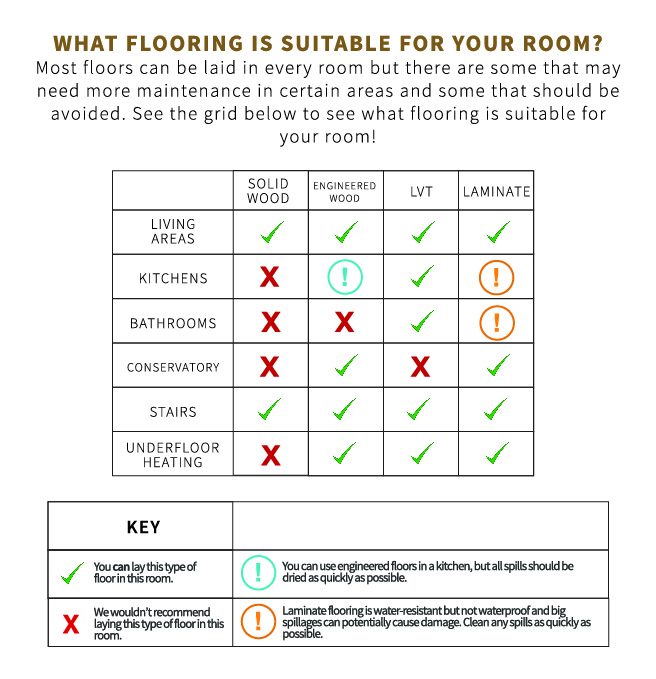 If you're still struggling to decide which range to go for, free samples are always great to help narrow your decision!