If you keep up to date with interior design trends, chances are you've heard of hygge before. The concept first came to prominence in the UK in 2016, although it's been an integral part of Danish culture since the early 19th century.
What is hygge, and why is it so popular?
What is Hygge?
Simply put, hygge centres on embracing, and enjoying, the simple things in life.
Pronounced "hoo-ga", the word has no direct translation. This makes it difficult to compare to anything we have here in the UK.
Although the concept traverses all seasons, hygge's importance to Danish culture is prevalent during the long, cold Scandinavian winters in which this particular area of the world is renowned for.
Hygge promotes a lifestyle that's warm and cosy. It's all about taking pleasure from the seemingly insignificant, and often inexpensive, things in life. Spending time with friends and family, relaxing with a good book – these are all things that could be considered hygge.
With a number of books being published on the subject of hygge during 2016, the concept eventually made its way to other countries. It even came second in Collins' 2016 Word of the Year.
Here in the UK, hygge is commonly used as a reference to cosy interiors. It's an art form; one which creates a homely and relaxed atmosphere.
Hygge in Your Home
Applying this popular Danish concept into your home is actually easier than it sounds, no matter your budget. Even the smallest change can help you embrace hygge in your home as the cold weather and long nights draw in.
Bring the outside in
Incorporating natural elements into your décor innately creates a more relaxing atmosphere. A touch of greenery can make all the difference. Houseplants are great for additional style elements within your existing interior design.
If you've got a particularly black thumb, there's no need to avoid incorporating nature into your home. You could look at succulents, which require minimal upkeep.
If you're unsure on the whole plant idea altogether, you can try other natural materials to create a similar effect.
A warm-coloured wood flooring is another way of creating a cosy atmosphere. When paired with the right rug, you'll soon be mistaking your living room for a dreamy winter lodge. Elements of exposed brick or leather feature pieces can also work wonders.
Experiment with lighting
To truly embrace hygge within your home's interior, low-level lighting is a preferred choice. Rather than one overhead light looming over the room, a combination of floor and table lamps will create much more tranquil surroundings. Of course, an overhead light with a dimmer would work just as well.
Aside from lamps, lighting a few candles can also help you to achieve the desired homey feeling that's so commonly associated with hygge. The warming glow from an arrangement of different sized candles are a great alternative to lamps.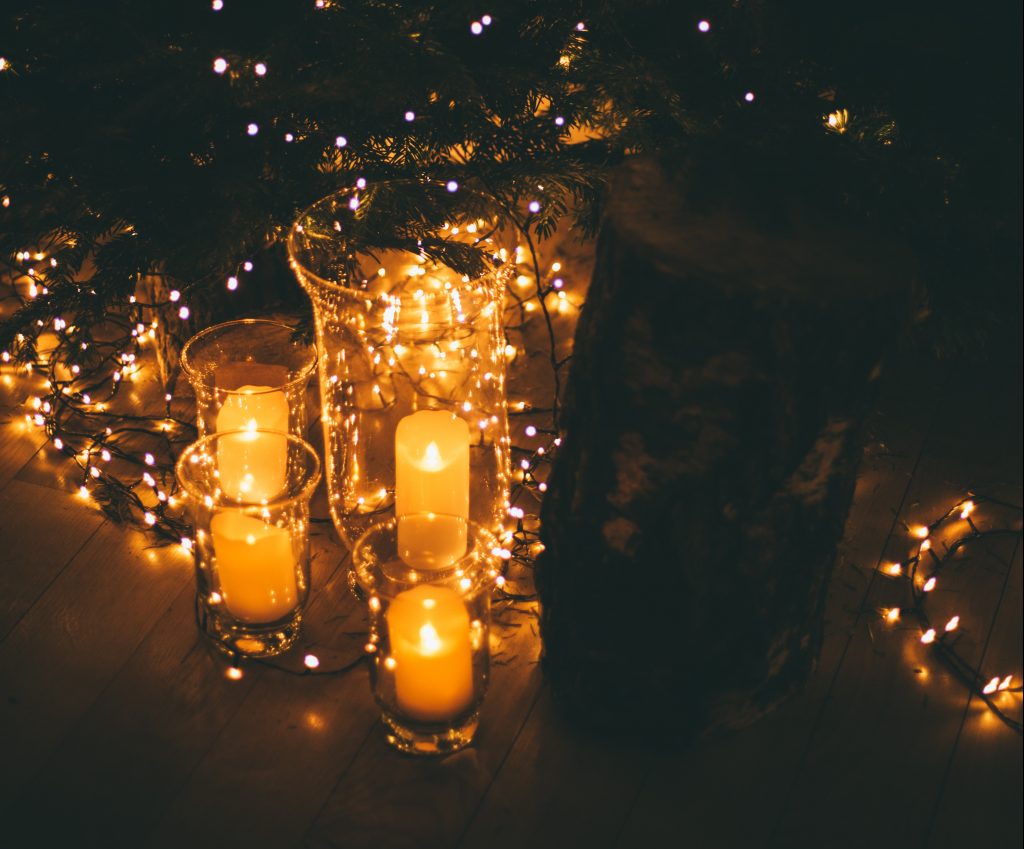 Creating a flickering escape from the cold, you can also choose your favourite scent for a hit of nostalgia within your own Scandinavian getaway.
Accessorise for comfort
Comfort is key when it comes to achieving hygge in your home's décor. Start with living areas that you spend a lot of time in. Knitted blankets are a staple in many Danish households, and they should be a part of yours too.
Throw pillows should supplement comfortable furniture, making it easier to relax and get comfortable. They also add a stylistic aspect to your interior design, allowing you to experiment with different complementary colours.
Make it personal
Hygge is all about enjoying the little things that make you happy. Be that friends and family or relaxing in your own company, your interior should be personal to you.
Surrounding yourself with objects that hold memories is an important part of the hygge lifestyle. Rather than mass-produced items, Danish homes place focus on the personal lives of those living in them.
Whether they're pieces you bought on a particular trip away, or family photos in frames that were bought for you, it's all about being reminded of the little things that matter when you look around your home.
Create warmth throughout your home
There's no better feeling than escaping the cold in the comfort of your own home.
Lighting fires in your home not only adds physical warmth, but the orange and red light envelops the room with a particular cosiness. If you don't have a fireplace in your home, you can still create a similar feel by turning to an arrangement of different candles.
This doesn't have to be the end of it though. Make sure you've always got items close by that will help. A hot water bottle, slippers or previously mentioned throw blankets all add extra warmth and make a house feel more homely.
Play with different textures
Soft textures are an obvious go-to when you consider making your home cosier. If you're accessorising with throw pillows and blankets, faux sheepskin or velvet are sure to add comfort.
Knitted blankets are also great for additional texture. If you have wood flooring, a woollen rug will give off warmth underfoot as well as catch someone's attention. Different textures add character to a home, so it's worth seeing how you can make them work for your interior design.
Make it inviting for friends and family
One final way to incorporate hygge into your décor is to optimise your space for friends and family to visit. Sufficient seating in an open-plan space is welcoming to any visitor.
Set the dining table in preparation for visitors to evoke a homely feel. Spending meal times together to talk about the day and enjoy each other's company is imperative to a hygge lifestyle, and your interior should match this.
There are many elements to hygge, and in some ways it all depends on what matters most to you. After all, this is a lifestyle that's purpose is to make you more content with what you have, rather than what you don't.
So don't sweat the small stuff. Appreciate the little things in life by embracing the hygge lifestyle, and cosy up your interiors to make your home a hub of relaxation and happiness.