For many of us, flooring can be one of those larger expenses on the renovation list and keeping up with the latest trends and styles can add to the pressure of making sure we keep our house up to date and looking the part. 
To help you get the most bang for your buck, we've accumulated some of the latest flooring styles and how to achieve them when working with a budget. 
Flooring Styles
Patterns
Geometric, stripes, aztec; whatever you're into, there's a style to suit you. 
Bring those abstract patterns and designs to the foundations of your rooms, creating a stand-out feature in your home. 
This trend is becoming more and more popular, with a particular rise in the use in kitchens and bathrooms, and can be achieved at very friendly price points. 
Laminate is a great option when it comes to this design. It is now available in a host of styles and designs, including tile designs. On top of being a great practical addition to any home being highly durable and hard wearing as well as being easy to maintain.
Another flooring type suited to budgeting and this style is vinyl. Vinyl rolls offer a multitude of designs so there's something to tickle everyone's fancy. Whether it's the antique tile effect, or the quirky mosaic. You can guarantee the diverse options delivered by vinyl will peak your interest. 
Not only is vinyl on the lower end of the scale when it comes to cost, it has an abundance of benefits including: home-wide suitability, durability and easy maintenance, so you really are getting more for your money. 
Price
Laminate flooring is priced at from around £8.74/m², so these benefits and amazing designs can be fulfilled at a reasonable price!
Where price is concerned, vinyl roll ranges start from around £8.99 /m², making it one of the cheaper flooring options on the market. It's unique designs can allow you to achieve those high end looks, without shelling out. 
Rustic
Yes! You heard correctly, rustic is the new, well... New. 
Rustic interiors bring a unique and authentic beauty, utilising natural earthy tones and textures to your space. Some like to say rustic is a 'rough around the edges' look. We like to say it's natural charm. 
Now we know you're probably thinking that an authentic solid wood flooring is a great option to get this kind of outcome. And it would be.  
But remember, we're shopping on a budget! So let's look at more attractively-priced options to obtain a rustic vibe in your home. 
One option you could opt for is laminate. Laminate comes in an array of colours and styles, with some of those styles making a perfect fit for your rustic dream. 
When it comes to rustic, bringing the outdoors in, is what will achieve you the best results. Look for those knots and grains that show the natural effects of the outdoors to gain a more genuine feel.
Price
Moving onto price, laminate is a great option for working with budgets whilst getting more for your money. 
Starting at around £8.74/m², offering homewide suitability (subject to AC rating), available in a range of colours and styles and is great in terms of durability, laminate flooring means you get a tonne of great benefits for a smaller price. 
Grey
Surely you've seen grey become a long standing trend that doesn't seem to be shifting any time soon? Grey walls, grey doors, and not to forget grey floors. 
Where grey floors are concerned, the options are of the many. As this trend relies on simply sticking to a colour scheme, this gives you an easier job where choice is concerned. But whilst narrowing down a colour is easy, we need to focus on which of these options will bring the desired grey look without having to crack open the piggy bank.
One option with a more attractive price is laminate. Grey laminate is becoming a popular option, not only being desired because of a trend but it's functionality too. 
Laminate is durable, so perfect for those high traffic areas, households with children and pets. Not only is this flooring great value for money, but everyone is happy!
Price
As previously mentioned for another flooring style, laminate starts at around £8.74/m², so where budgets needed to be reigned in, this flooring makes it easier to do so. 
Comfort
After some added comfort in your home? Why not introduce the more traditional neutral tones into your rooms. You know the ones we're talking about. The beiges. The browns. The creams. Carpet is a great, and cost effective way to do so. 
These traditional, lighter tones create a neutral ground for you to change decor around them through time periods. One thing that always seems to stick are these types of carpets. They add comfort, give that blank canvas aspect because just about everything goes with them, and they look great!
Another option to consider if comfort is your desired outcome, is laying a wood flooring that can be installed as a floating floor with a thick underlay. 
EvoCore is a flooring options that will give exceptional warmth in your home, and coupled with a thick underlay, this will trap heat, as well as adding comfort underfoot. 
Price 
Starting from as little as £5.99/m², you can bring comfort, and this long term trend to your home.
Alternatively, EvoCore has multiple ranges starting from £34.99/m², with a range of styles, colours, and designs to suit. There is something for everyone!
Stone and Tile 
The final trend we'll look at is stone and tile. This trend is another long term trend that saw a phasing out, and is seeing a comeback. 
This trend is a desired look in kitchens, bathrooms and hallways, and we have the perfect flooring to suit. EvoCore.  
In particular the EvoCore 360 range and the EvoCore Premium range, with the offering of tile designs to fit! 
Considering kitchens, bathrooms, and hallways are popular areas for this flooring style, EvoCore makes both a perfect style and practicality choice. 
These are all high traffic areas of the home, and need the flooring to support it. 
EvoCore 360 offers an array of benefits to suit these needs. From the desired tile design, with the ability to mix and match colours and styles thanks to a 360 omni-click system, to being waterproof, suitable for any room of the home, and highly durable. To name a few. 
The EvoCore Premium range, available in tiled design, is another option when looking to achieve a stone or tile look. 
Waterproof

Pet Friendly

Child Friendly

Scratch resistant

Built-in underlay

Quick and easy installation 
There are just some of the benefits of EvoCore Premium, and why you should choose it as the foundations of your home. 
Price 
EvoCore 360 tile ranges start from £38.99/m², and Premium starts from £44.99/m². 
The EvoCore tile ranges work as an alternative for ceramic tile, and whilst these prices are around a similar cost, the EvoCore ranges bring a whole lot more to the table for the price you pay.
Ceramic tile is installed with grout between each tile which can be hard to clean, whereas EvoCore is easy to maintain. Additionally, replacing damaged tiles can be difficult due to the way they are installed. EvoCore on the other hand is highly durable and easy to replace. 
With these benefits in mind, with EvoCore you're getting more for your money!
Top Tips for Flooring Styles on a Budget
Throughout this article we've given some handy tips on how to shop smart when it comes to flooring. But let's go over them in more detail to ensure you're armed with as many tips and knowledge possible to keep your budget down and your savings up!
Sales and Promotions
Sales and promotions are when stores offer products are reduced prices for a period of time, making products more accessible to more people. 
These types of offers are not limited to any specific industry meaning you have a great chance of coming across events such as these when looking for your flooring. 
There are typical sales you can look out for, often seasonal or bank holiday sales. These are times you can expect to see reductions in prices. However, some stores run general events that you can keep an eye out for to get the most for your money when purchasing your flooring. 
Sales can usually be accessed in stores and online. Look out for "Sales" and "Special Offer" buttons on websites, usually found in the navigation bars.
Remnants and Roll Ends
The genesis of vinyl and carpet is from a roll. They're then cut to size depending on the needs of a customer. As the roll gets closer to the end, the roll size is reduced to a size in which there is no sense in continuing to cut as is usually near enough standard room size. 
These roll ends are usually sold at a cheaper price as they come in a standard size and are usually enough to cover either one room or enough to cover one room with some excess. 
So to save a few pounds, especially in those smaller rooms of the home, look for remnants when purchasing carpet and vinyls.
Price matching
In some cases, stores can sell the same product. It happens. However, when shopping around, some stores will offer you a price match option if you buy the flooring from them. And in even better cases, some stores will offer you a price match plus the offering of some more discount. I.e. Here at Direct Wood Flooring, we pride ourselves in selling unique flooring, though should the same flooring be sold elsewhere, our price match offering is price match plus 10%.
This is something you should look out for should take advantage of when shopping on a budget and doing your research! When looking around for the best flooring for the best prices, make note of places that sell the same flooring and see what their price match policy is. 
Finance
Finance options are another way to budget. However, this is something you should only consider if you are in the financial position to do so. If you are renovating your home and think at that given time a larger chunk of money would be better spent elsewhere, there are stores that will allow you to spread the cost with a finance agreement. 
Underlay 
Another cost saving option is underlay. You may be thinking that this is another thing you're going to have to pay for, and it is. However, you'll be pleased to know that whilst underlay is an added expense now, it could potentially save you more money in the long run.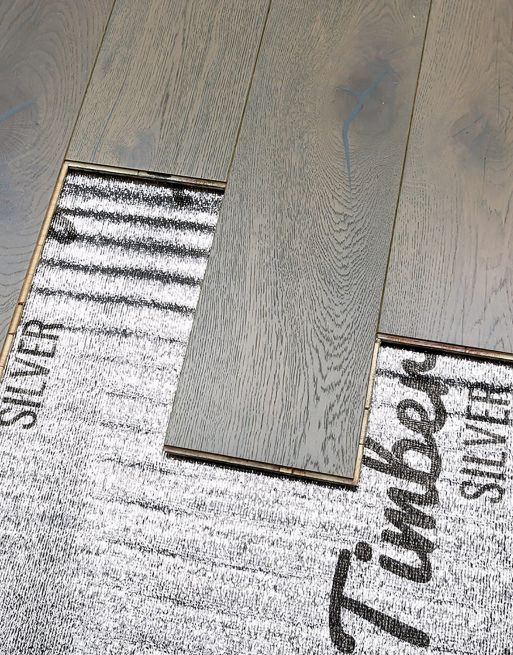 Underlay protects the longevity of your flooring, prolonging the lifespan, meaning less chance of having to replace your flooring prematurely from unsupported foundations. 
Another money saving factor of underlay is that it is great for heating insulation. This means those heating bills can be reduced as you won't need the heating on for as long, or not at all. 
Underlay also offers a host of other practical and personal benefits such as: added comfort and helps with noise reduction.
Save. Save. And Save.
Now you've had some of the best tips and tricks in the book when it comes to flooring styles, so it's time to action them and put your budgeting smarts to use. 
Should you have any questions regarding any of the flooring styles, or tips above, contact one of our flooring experts now, and they'll be happy to assist.